Much as we all admire the ex-Emperor axeslinger, he's fallen into the pit of what happens to musicians once they've blasted out their most vital creative material: they become masters of interesting details, but this means that they fit into the dominant paradigm. In this case, Ihsahn is basically progressive indie rock with a tendency to launch off on flights of fancy that sometimes involve metally riffs. But for the most part, he's playing with the same pieces and riding in the same channel that everyone else has been cruising for the last 70 years. This doesn't showcase the legendary creativity that propels this artist toward his best work, and also doesn't make for great listening, since it's a collection of mixed moods that never really pick up a direction anywhere but into themselves.
http://www.youtube.com/watch?v=DlAunHz0RIE
Folk metal isn't a genre; it's an approach to any number of genres. Falkenbach is heavy metal with some black metal influences but is approached in a "folk" way that resembles jaunty pirate and epic Viking songs from Hollywood movies, thus continuing metal's infatuation with the soundtrack. The music isn't bad, but cycles verse-chorus and develops very marginally so there's not much of a vertiginous sense of revelation. Further, either this dude has a sinus infection or they autotuned these vocals, which is somewhat repellent if your music is naturalistic. Thus this gets filed in the pile of stuff I'd like to like, but can't have faith in, and find aesthetically irritating.
When we run out of ideas, we run to the past. So it is with Beastmilk, who resurrect 1980s indie rock with a slightly more intense guitar focus, like R.E.M. crossed with Dave Mathews and grafted into Journey. This isn't bad, but not so exceptional we must cover it on a death metal site.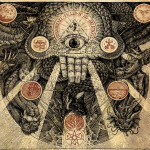 Inferno – Omniabsence Filled by His Greatness
Strongly reminiscent of early Dark Funeral with lower tuning, Inferno provide charging black metal with strong concluding themes and high energy. None of these riffs will really strike you as all that unusual, but they knit together well into songs. To flesh things out, Inferno use fills of sweeps or lead picking between the rushing power chord riffs. This release really doesn't have enough character to distinguish itself for the ages, but is more refreshingly clear about what it likes than most of the kvltists or hybrid-bands that wander through our review stack these days.
Sometimes we confuse having a lot of material with having something epic. This 2CD is a fusion of doom metal in the style of Confessor/Candlemass and a lot of random 70s influences from Hawkwind to Yes. These guys like to jam, and this music seems like someone recorded jams for a year, patched 'em up so they stuck together as songs, and worked them into an epic format. They'd do better to distill this to an EP of their best thoughts.
Polluted Inheritance – Betrayed
When Polluted Inheritance play death metal, they create a type of very familiar and nocturnal music that feels like moving through a darkened battlefield. This is broken up by speed metal riffs and lead-ups which sometimes have Pantera-style roundabout vocals circling the end of each phrase, causing a sense of this battlefield being broken up by machinery. In addition, Polluted Inheritance like to drop in sporadic progressive riffing or extremely noodly guitar, often accompanying some of the speed metal riffs. Reminiscent in many ways of later Adramelech, the band thus "comes into its own" less frequently that it would if some hard stylistic decisions were made and individual members had less freedom to indulge musicianship for musicianship's sake. It is gratifying however to find a release that actually wants to be metal, and can execute moments of insight in riff form that evoke the best moments of classic death metal.
Although from the deathgrind genre, this album represents an attempt to use old school approaches to melody and riff with the "modern technical metal" style of static or harmony-based (sweep) riffs. These riffs are designed to contrast each other toward resolution in the old school way, but ultimately are too linear and rhythmic to develop enough phrase. However, the deathgrind portion of Infinite Deprivation is a breath of fresh air, incorporating groove in a subversive and unnerving way and building up to honest culminations. Obviously it's too much to ask this band to go all old-school but they're the closest thing to interesting in deathgrind.
http://www.youtube.com/watch?v=5Hje–YVhEQ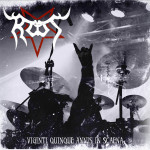 Root – Viginti Quinque Annis In Scaena
This album sounds like Venom covering Cream. It's basically hard rock and the generation before it, sped up with more precise playing and some hefty fellow bellowing over the top. While none of it is is particularly badly executed, it also sounds dated, like a flashback into the late 1960s which is being resurrected for purposes of nostalgia. The homebrew nature of this band would be appealing if the songs stretched beyond an emulation of that past state in time, but although heavily influenced by the Hellhammer-Bathory first wave of black metal, this music remains in part of that cluster of material that belongs to a time before the underground.
This seems like "sludge metal," which is really just slow metalcore, with throw in influences from indie and black metal. Mostly disorganized, it fails from inability to make a point, although there are no other deficits. Like most music in this style, which seems to be people who want doom metal with aggressive open intervals instead of minor key ones, the modus operandi of the listener is to experience drone and forget where he is in the piece, then notice periodic interesting bits before descending again into a rumble of confusion.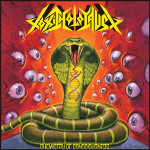 Toxic Holocaust – Chemistry of Consciousness
The whole of the human condition is revealed by this album: it is well-executed on the surface, but its independent spirit is bound up in pleasing others with what they already know, in order to get power. As a result, it is a fun listen until you start thinking about hearing it a dozen times. It's more instrumentally competent than your average retro-thrash band, but strays mostly into speed metal territory, mix and matching riffs from 1980s speed metal bands so that verse and chorus riffs each resemble well-known types but they don't appear together as in the original song. Most of these songs are repetitive verse-chorus with a break to provide contrast before the reprise. Oddly, the vocals are whispered and distorted like a black metal band but using the rhythms of a late 1980s band like Sodom or Kreator. This is well-executed but I wouldn't want to hear it again, especially as I heard all of these ideas the first time around — back in the 1980s.
http://www.youtube.com/watch?v=KgxTN9M_3uM
Tags: Black Metal, death metal, Heavy Metal, oration of disorder, Thrash