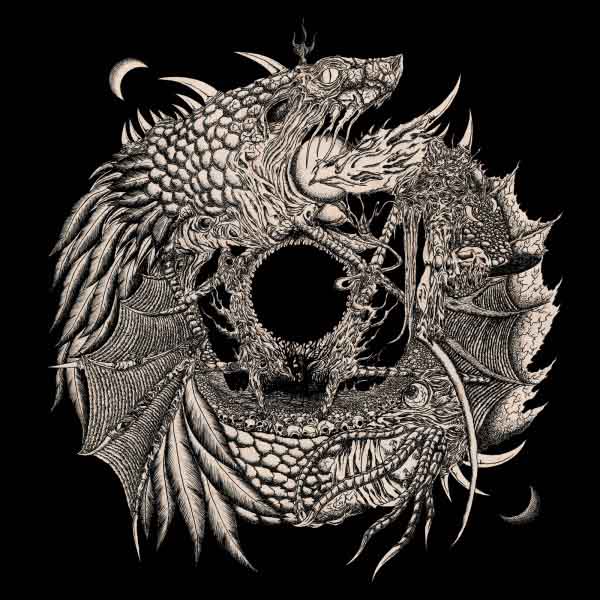 Perversor play a fast and ripping minimalist death metal which some would be tempted to encase in the line of primitive South American so-called black metal were it not for the strong structural development so strongly evident in the detail-intense songs which defeat any accusations of purely atmosphere-oriented thinking. In fact, Anticosmocrator gives us the opportunity to contrast their more musical approach to that of bands with a more vague and atmosphere-building composition mindset. This difference lies in the importance of keeping a balance between evocation and solid musical construction.
While Perversor fills all the requirements to be classified beside any atmosphere-minded bands like those playing war metal, for instance, it far outdoes them by virtue of achieving solid development of ideas in the composition of their songs. Typically, Perversor will take a fast riff and develop both variations on the riffs or transitioning into riffs that are easily recognized as being related to the previous ideas through the interval relations in the patterns used while the rhythms and register are changed. This is a formula that is easily summarized but which nonetheless requires great skill to apply and expand to create convincing songs that both take the listener from a beginning to a distinct ending yet do not exceed the natural reach of the riffs and ideas used.
This is the sort of release that is excellent but will not turn the heads of those who are always on the look out for bands thinking "out of the box" as if that were the whole basis of good music. Perversor compose songs on a solid basis and while not diverging or breaking any limits, create evocative, musically competent and whole music that should be at the top of any discerning metalhead's list for 2015 .
Tags: 2015, Anticosmocrator, death metal, perversor, War Metal