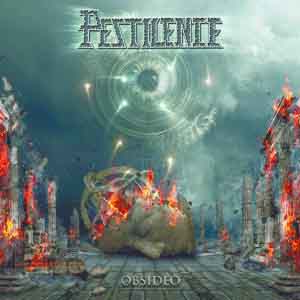 Pestilence avoids controversy poorly. After the legendary Consvming Impvlse, the band went on to produce a series of albums culminating in the synth-sounding jazz-heavy Spheres, which remains one of metal's most divisive albums: people either love it or hate it, with few in the middle gray areas.
Then after years apart, Pestilence returned in 2009 with Resurrection Macabre followed two years later by Doctrine. These albums showed Pestilence trying more for a contemporary style of modern technical metalcore (sometimes called "tek-deth") without as much of the crazy instrumental embellishment of past albums. Now, possibly from a better state of balance within the band, Pestilence unleash Obsideo.
Obsideo returns to a long-running controversy in this band which is not metal-versus-jazz as many would think, but among two types of metal. Specifically, the album Malleus Maleficarum showed Pestilence reining back the death metal of their later demos, and trying for a death metal infused with American-style speed metal. Think Kreator covered Megadeth and you have roughly the same style, although in Pestilence's case this revealing a longstanding tendency with the band: eschewing the phrase-based riffs of death metal for more rhythmic variations on chord progressions in the speed metal style, then filling in the space with leads.
But if we were to extrapolate Malleus Maleficarum into the present, updating its 1980s speed metal on the cusp of death metal with the metalcore-inspired insistence on variety and riffs that ride a vocal rhythm on the nose, we might find the blueprint for Obsideo. It's more repetitive and confrontational, simpler and less nuanced, and reflects more of the industrial and hardcore influence into metal of the late 1990s. In addition, songs have fewer fireworks in terms of song structure, but more in lead guitar, which is often used as transitional material in song or for kinds of extended fills to denote layering in riff motif.
Fortunately the space-age jazz-fusion guitar of Spheres has returned in the lead guitar department. While not every lead is quite as distant from normalcy as those, these are more confident, both proficient and playful, showing these musicians at a point where they've absorbed the changes in their own ability and can put them to better use. Often a song will snowball with power chord riffs but flesh out its mood with leads, and then fade out into the use of similar themes in the lead to take over the direction of the song.
Production sounds like a chunkier, bassier version of Spheres but doesn't have the compressed and blasted feel of the two comeback albums. This album shows metal at an interesting place as it tries to recap the thirty years of growth since heavy metal transitioned to speed metal, but on the whole, Pestilence have done a good job of it. This is more listenable than their last two, seems more compelling and personal, but also brings musicianship back into the mix in a way that coincides with these musicians' instrumental focus.
Tags: death metal, pestilence, Speed Metal, the netherlands