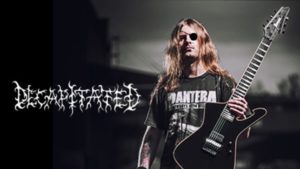 Tortured deathcore idols Decapitated have been freed from prison and await trial for the alleged kidnapping and rape of a female attendee of one of their concerts. Denied by the liberal metal scene they have heroically slaved their lives on the road to please, the group had already faced unfathomable torment a decade ago when a tour bus crash saw a former member killed and another with crippling retardation.  Although his metal condition is fortunately not as severe as that of Decapitated's fans, the bands suffering remains unrelenting nonetheless.
Yet because of the sex assault accusation wave that has swept the nation in which no one is presumed innocent before due process, the majority of impressionable normie fans and mainstream metal media have already permanently disowned the band. Because of leftism's ultimate lack of loyalty, this will continue even after the very likely not guilty verdict is read, as eyewitness accounts are contradicting the victim's story court documents read (per court documents as reported by The-Spokesman Review):
She was smashing her hands, arms and body against the metal barricade between the audience and the stage
This is a lesson for young metal bands on tour- be very weary of the tattooed liberals you are alone with in your van, bus, venue parking lots, and bathrooms, etc.  We live in an age that celebrates and empowers not only those who keep the truth of their genitalia a surprise, but also those who retract sexual consent a day after giving it.  Let go of the groupie legends you heard growing up- it rarely happens in metal and when it does, it's often something you're not proud of.  Instead, find yourself a wholesome trad girl when you get home- their lack of mental disorders will make it worth the wait, and your anus will thank you at the end of the day.  For as Decapitated have proven, a metal musician's entire fan base will disown you at the very moment an accusation is leveled in your direction.  This is the cannibalistic nature of liberals and thus the disloyal nature of liberal metalheads.
Tags: anus, death, death metal, deathcore, decapitated, false accusations, kidnapping, metal, news, rape, sex assault