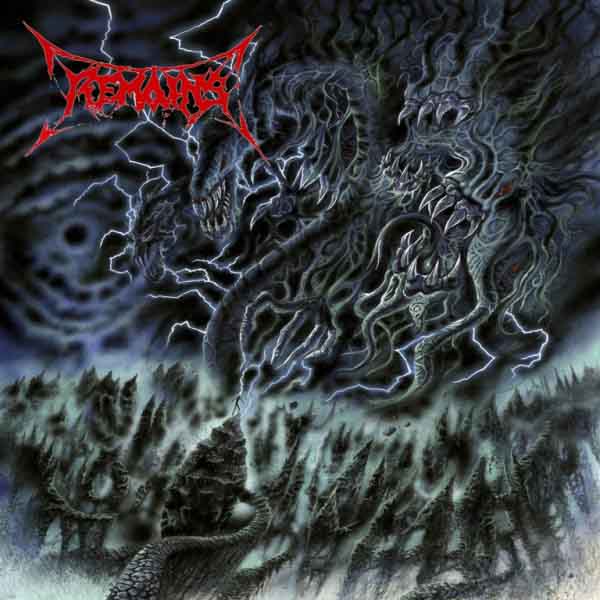 Old school death metal band Remains returns with its fourth release Evoking Darkness which shows inspiration from the Swedish and American greats of mid-90s death metal merged with the type of bluesy and infectious integration of classic heavy metal that made Clandestine a powerful album, albeit placed in a style that is closer to a cross between older Dismember and Unleashed. The band does not attempt to innovate in aesthetics but creates a sonic charge with the energy and unsettling corruption of mainstream archetypes which defined death metal during its heyday.
The band produced an impressive body of work with its 2012 demo "The True Essence," the …Of Death EP the following year and Angels Burned in 2014, and follows up on those with simpler, tighter songs that eschew pure grinding in favor of a well-blended integration of metal styles designed to be both audially compelling and unnerving in the method of classic death metal. Songs rotate around a central break from the verse/chorus pairings, repeating themselves in both introduction and egress from that core confrontation. Lead guitars drop in with a variety of styles integrated into organic but energetic explosions of clusters of notes and lengthy fret runs. Vocals take on the gruff exhortations of older Dismember and give it the percussive rhythm of American death metal like Malevolent Creation, crafting a narrative of violence with a lining of excited morbidity. Remains shy away from the melancholic and dark side of death metal and instead converge on its region of pure energy, with music that delights in the finely-picked textures of Swedish death metal alongside the percussive power of Florida death metal. Herein lies where Remains can improve this work, which is that the hard rock/heavy metal integration into the death metal does not always emerge triumphant and often consumes the death metal portion, and extremely basic chord progressions which do not give songs much room to expand in structure or melody. The aesthetic, energy and atmosphere remain perfect and can expand over time as this band matures.
Most people will be floored by how Evoking Darkness not only stays true to the old school sound but gives it life through a voice of its own which is not expressed in style but in these songs themselves and their unique takes on the riff forms from the past forty years of metal. Where Remains shows its power is in the fitting together of these meticulously crafted rhythms so that riffs both flow and contrast one another; while greater harmonic or melodic death would enhance this, it alone makes Evoking Darkness more listenable than all but a few of the retro-death albums which fit together blockily or unevenly. These riffs balance each other in dissymmetry and create a sense of an evolving lacuna which propels the listener forward to see what comes next. Not only do riffs counterpart each other well, but their internal rhythms show a study of the power of the riff itself, and the album flows past without lapses or discontinuities. It shows vast improvement over the previous album from this band and signals a path to their future, since Remains has built a framework upon which more complexity, both in complexity of structure and use of tone, can be built.
Tags: death metal, Evoking Darkness, mexico, remains