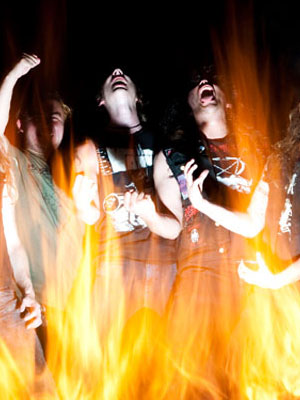 History is a big circle, and it's coming around again. According to the loafers at Creative Loafing Atlanta, Atlanta, GA has resurrected an old school style metal scene.
First, these bands are playing 1985-1995 fodder. Second, they live together and promote each other. Finally, there's no hint of the nu-core blight that has afflicted metal from 1998 through the present day, which allows these bands to develop their own take on an older sound.
For example, Sadistic Ritual sounds like Kreator…. to a point. Somewhere, they diverge and find their own voice, although as a demo band, they're still trying to get a handle on that. But the fact is that they're aping the past in form without aping its content, which separates them from the nu-thrash "revival" that first ripped off 1980s speed metal, then Swedish death metal, and now has moved on to punk.
Tags: death metal, kreator, sadistic ritual