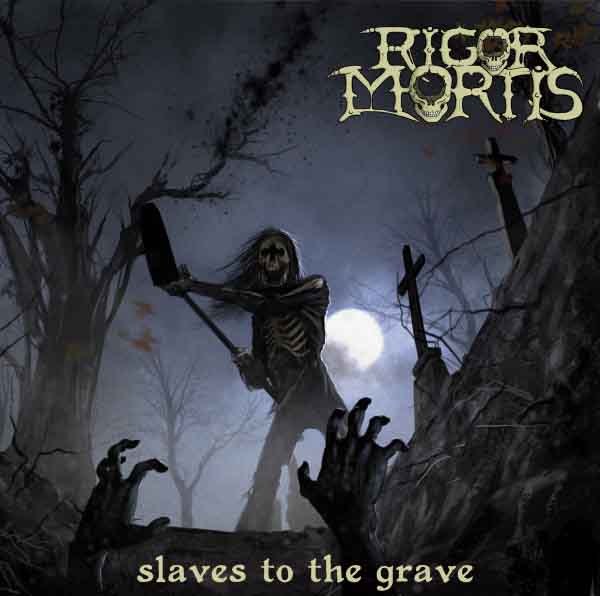 Before the untimely passing of Rigor Mortis guitarist Mike Scaccia, the band recorded what will become its final album. Featuring the same lineup as 1980s Rigor Mortis, Slaves to the Grave emphasizes the unique approach of this groundbreaking speed/death metal band as rendered with contemporary production.
To spur interest in the album, Rigor Mortis released a preview track entitled "Flesh for Flies" which demonstrates the new style. The same frenetic high-speed rhythm guitar makes its presence known, but with more of the melodic depth seen on later Rigor Mortis works like Freaks and Rigor Mortis vs. The Earth. Bruce Corbitt elevates his frantic vocals with death metal technique mixed in with his urgent shouts, and provides the kind of engaging rhythmic chorus that will ensnare any metalhead with a love for 1980s style speed metal. In addition, Scaccia injects a solo that attacks with a blitzkrieg undulation of notes that creates a texture from which a melody slowly arises. Gone are the longer song structures of Freaks, replaced by a verse-chorus approach that hammers home the powerful transition between the more death metal verse riff and the elegant melody of the chorus.
The song consciously targets the self-titled Rigor Mortis album that floored the metal community with its gore lyrics but powerful instrumentalism and abundant energy. For those who are looking for a re-creation of that first album, Slaves to the Grave looks to be both in that vein and enhanced with the more immediately impacting approach that band members picked up from subsequent projects. The strength of this track comes from its simplicity and directness which allows its viral payload to intrude directly in the consciousness of the listener, leading wayward brains to a dark and morbid place undergirded with the trademark Rigor Mortis absurdism and musicality.
Tags: bruce corbitt, death metal, mike scaccia, rigor mortis, Speed Metal, texas metal