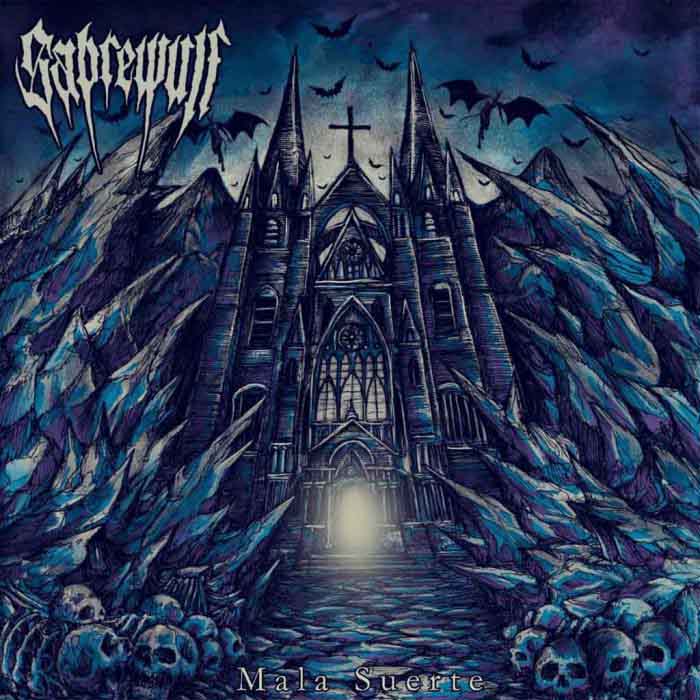 Swedish death metal left a massive impression on the metal underground because it both created a sound from intense distortion and d-beat punk swept up in primal death metal and also gave a voice to this music with a viewpoint that was simultaneously energetic, ancient, and anarchistic. Sabrewulf add to this a raw spontaneity and give it a different path.
Sounding much like the fusion of the first albums of Carnage and Hypocrisy played in the style of Sadistic Intent, Sabrewulf use basic riffs to build on a pounding, surging rhythm and make from it addictive songs that seem right on the edge of falling apart. This reinvigorates the Swedish style by pointing it in a different direction that explores the origins of death metal, before the style solidified and became a language.
Mala Suerte consists of songs which use a careful formula of introduction, verse-chorus, and then one branch before pounding to conclusion, following more of the early speed metal pattern or something like what Possessed implemented carefully on their first album. The high-energy pulse and idiosyncratic riffs with unsteady, almost unsteady fills makes it appear like a demonic form rising from the chaos of nature.
Unlike most Swedish-inspired bands, Sabrewulf understand how to apply the d-beat and when to break from it, using interludes and tempo changes to keep from falling into the rut that groove can be. Somewhat unconventional riff-writing borrows from heavy metal as well, delivering a new voice to this classic underground style.
Tags: death metal, sabrewulf