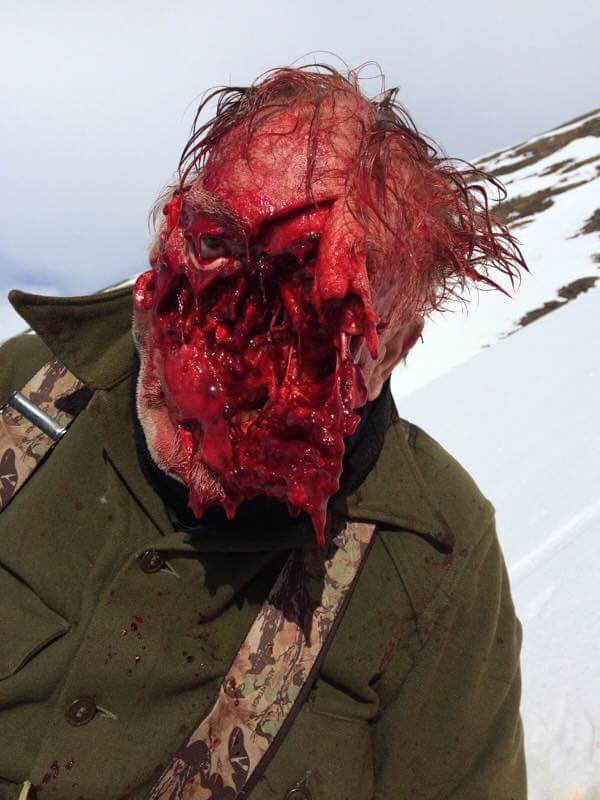 Why write bad reviews at all? Good music is rare, and bad is everywhere, but if you do not explicitly identify the failings of bad, most people will find it appealing because it does not interrupt their steady stream of self-centered thoughts and is easier than seeking good. If you like good music and want more of it, you must bash as well as praise, as Machiavelli would tell you. And with that, the latest installment of the Sadistic Metal Reviews…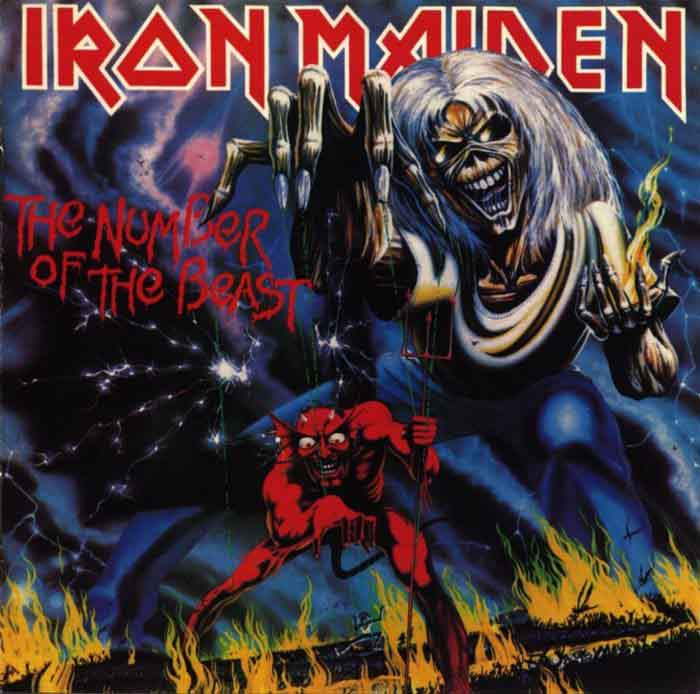 Iron Maiden – The Number of the Beast (1983)
In the early years of the 1980s, many threads of recent history came together: consumerism, ideological government, mass paranoia, urban decay and the fragmentation of social unity. It was a time of fads and panics, of real threats alongside phantoms of symbolic fear, and almost everything became a product that was pre-sliced, sterilized and homogenized, emulsified and colorized, and served up in uniform packages for both total equality and total corporate profit. The Number of the Beast did that to Iron Maiden. Gone were the sprawling prog-rock-meets-punk style of inventive songs that tied together several generations of British music; in their place came surprisingly compact, professional and catchy songs that overtly waved their melodic technique as a type of identity, and at their core pursued a pop formula and pop appeal. Where early Iron Maiden wanted to be outlaw rock heroes, Bruce Dickinson-era Maiden started out wanting to be The Beatles. Notice the provocative title without actually advocating Satanism? That is typical of this album's appeal: it dangles danger and fear in front of you, but then translates that into a non-threatening version for comfortable home consumption. It is no surprise it was massively successful and propelled the band to greater heights, at which point they experimented more and produced many of their greatest works. The Number of the Beast was great for offending the dying remnants of social order like churches, parents and teachers, but was actually as milquetoast and nanny-safety-state oriented as an episode of Sesame Street. If the cloying melodies and repetitive choruses did not kill you, the emptiness might, or realizing that you were buying the musical equivalent of Ikea furniture. Like a Big Mac, this was the raw meat sweetened and mixed with safety expert approved soy, seemingly rebellious but actually "teaching" the values that mainstream society had adopted only a decade before. With such covertly non-controversial content, but bold title, this album had nowhere to go but up, and that alone should make you suspect it.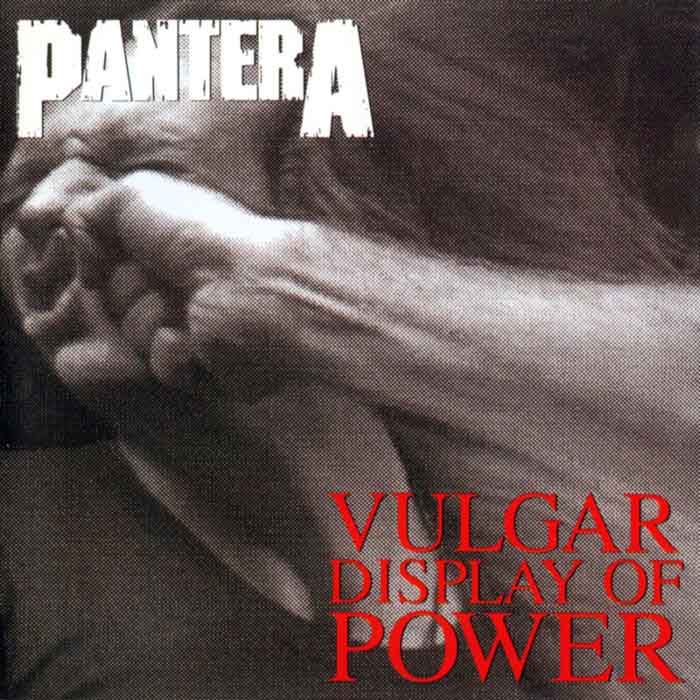 Pantera – Vulgar Display of Power (1992)
Phil and the boys were drinking grappa again in their Dallas apartment which they had decorated with pictures of the Louisiana swamps that Phil had spent most of his life avoiding to hang out in malls and work on his muscles and hair. "Check out this death metal stuff," said Phil. "We can do that too!" said Diamond Darrell. They adapted the style they lifted from Metallica, added in some of Louisiana homegrown quasi-death band Exhorder, mixed in a spot of Prong since Beg To Differ had captivated just about everyone with its art-rock/light speed metal mix, and came up with this album. To make it all work, as is inevitably the case, they reduced everything to a basic level of simplicity and turned up the hard rock bounce factor. This album serves the same role as those mesmerizer devices they use to keep lab animals mentally confused during vivisection. Watch the flashing lights… listen to the bouncing palm-muted riffs… hear the cries of a dying animal vocals… and then, pick up on the core of this album, which is rock dressed up in hard rock and then coated in speed/death metal technique to make it seem tough and I dunno, bros, bro-powered. Bro-style. Bro-core. It bounces, it prances and it struts like Caitlyn Jenner on meth at a beauty contest. It provokes, poses and gestures like frat boys drunk on Meister Brau for twelve hours every Saturday night. And then, like a weekend of watching television, it flattens out. The same patterns appear again and again. You hear the tropes borrowed from two generations of rock bands and realize, this is a product. It is like the NO FEAR window stickers, the Mr. Zog's Sex Wax stickers everyone had back in the 80s, or even the speeches of Bernie Sanders. Sugar-coated aggression conceals an utter void within. Every time I listen to this album, I think of a classic Pantera wrestling match where the loser gets raped, but everyone is equal so they all take turns on bottom anyway.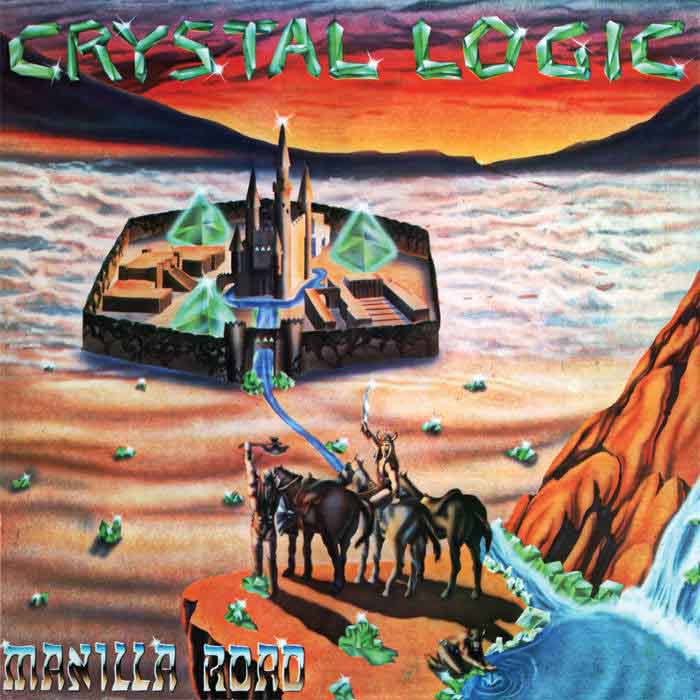 Manilla Road – Crystal Logic
The movie Spinal Tap was not a "how-to" guide, fellows… Manilla Road takes the NWOBHM formula of 60s guitar rock plus the early 1970s triad of proto-metal and hard rock (Black Sabbath, Deep Purple and Led Zeppelin) and comes up with something that resembles sperg rock more than heavy metal. The incessantly repetitive verses and choruses utilize the worst technique possible, which is the vocals shadowing the guitar riff, and the riffs themselves come to us straight from the catalog of hippie burnout anthems and butt rock. Every painful cliche appears in lyrics and cover art, and the vocalist sings in a nasal whine. Various journalists and interest sperglords have praised this album for its technicality, but this technicality is borne of its use of rock theory and recognized tropes from past generations, not its ability to create metal. Even the metal spirit is missing; this sounds like a tour of a new Disney ride or a second-string Tolkien clone more than an album designed to introduce you to the depths of your soul through nihilism. It is bouncy, peppy, and reminds me of girls wearing leg warmers and fluffy arm-bands doing aerobic exercises in the 1980s. I can find things to like about it, and clearly these guys and I read the same books in the 1970s, but, dear ancient gods of vengeance, I am forced to shut it off. The shrill, poppy sound is not nearly as bad as the kind of mental dropout activity that I associate with fundamentalist religions and Hallmark cards.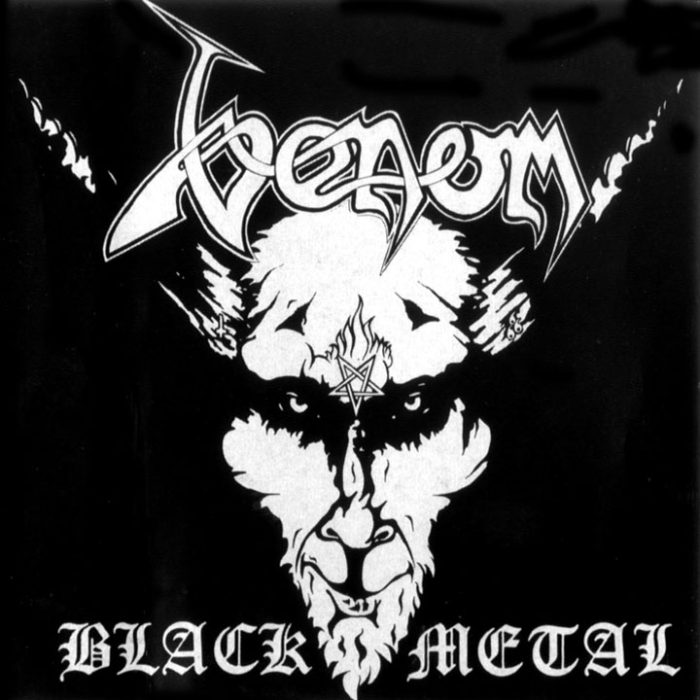 Venom – Black Metal
Venom gets away with its mediocrity in the same way that liberal, hipster, artisanal, proto-libertarian, status conscious and haughtily pretentious indie-rock bands do: by appealing to pity. No one wants to kick the scrappy little guy who makes it big despite having no musical chops and no social graces, and yet, this album is a type of entryism by pop music as a mentality. The damage it has done to metal is incalculable, considering that it is basically a Motorhead ripoff with an emphasis on minor key and progressions that end with diminishing intervals instead of expanding ones. Your typical Motorhead riff is early rock 'n' roll taken to an extreme: a chromatic rhythmic component, then expansion into pentatonic and minor melodic note progressions that are chopped up across the course of the song to make a melody. Venom both improves this with a more aggressive use of half-steps, but also avoids the melodic continuity in favor of a dependence on sheer rhythm, which produces a type of blockhead mentality that inspired legions of idiots to pollute metal with stupidity. The trudging rhythms and over-dependence on vocals also make this painful. Its aesthetic contribution might be noticed, but with Quorthon not depending on it, and Motorhead having done most of this, Venom seems unnecessary. Any punk or Motorhead and Black Sabbath combination would have produced the end result of death metal without the wastage created here, which is the introduction of a small retarded incontinent bisexual midget to a conversation among people of intelligence. No one wants to be cruel to the retarded midget, so every round in discussion stops for him to do an interpretive dance, write runes with his feces, and rant in the same quasi-language Jodie "Hinckley Had a Vision" Foster used in Nell. And so metal backdoors pop music into itself, then wonders why it never took off like jazz did…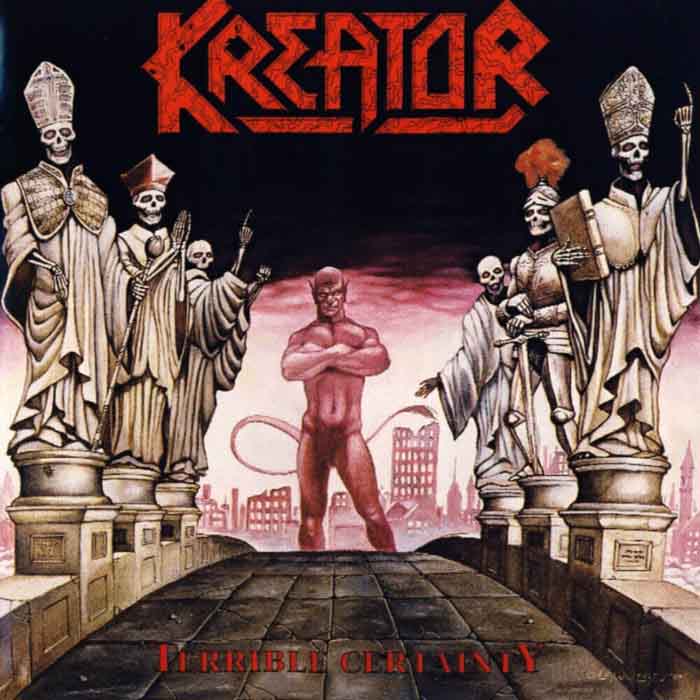 Kreator – Terrible Certainty
Clearly the damage done to Germany during World War II was wider and deeper than anticipated. While I am no fan of fratricidal wars like the two World Wars, having your nation follow a man who sells hope and delivers quasi-Leftist timarchy that promptly takes on the world and, outnumbered 20-to-1, loses, can crush anyone. Germany struck back with Kreator which reminds me of the second of the original Star Wars movies: you want to get lost in the world, but the premise is so broken that suspension of disbelief is impossible, and so you doze and wake up for the few cool moments. The second riff in "Storming With Menace" is legendary and contributed quite a bit to death metal, but it is surrounded by the usual Kreator mundungus of trite hard rock riffs transposed by one note into a mishmash of chromatic and open intervals, thrashy interludes that seem to suspend time because they go nowhere, ranting "foot-stomping" choruses that are as infectious and repetitively exhausting as a Miley Cyrus chorus. Like that horrible space opera sequel, the dream both peeks out from behind the chaos and then is destroyed by it, rendering the idea of the dream itself unstable. Kreator probably drove more intelligent people away from metal than any other band that is not outright devoted to doofus-core (Venom, Pantera). It is not, like the 90s and beyond material, self-referential when it is bad, but like Germany today, is too much other-referential. Kreator tries to be a speed metal band, a death metal band, a punk band and a hard rock band at once and the result is a potato salad of confusion and internal angst projected as one-dimensional drama. When this album first comes on, I always have that false hope made infectious by nostalgia, but when it finally turns off, I am doubly pleased to return to the current time even if it is in all ways a worse era.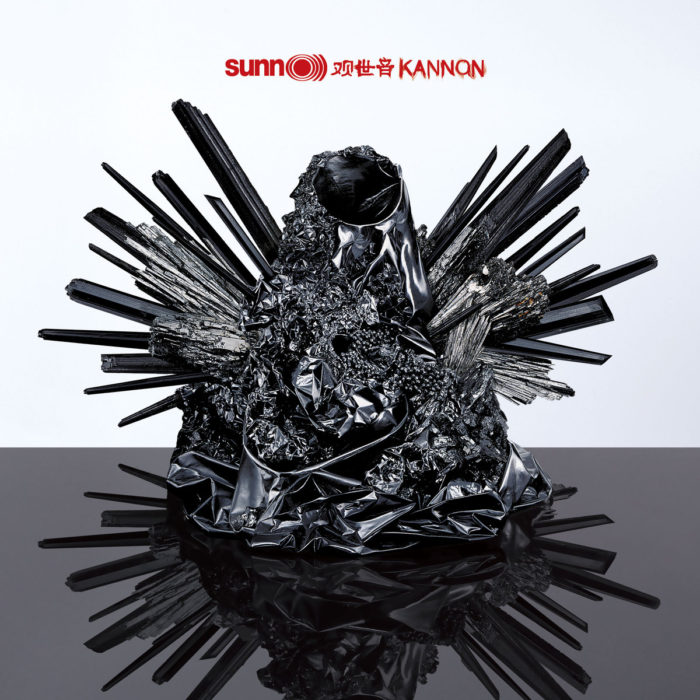 Sunn o))) – Kanon
This piece, like every other Sunn o))) piece, reminds me of being a kid on road trips. I would lean my head against the side of the car and listen to the drone of the road noise. That drone however was mostly random, and periodistic patterns popped out of it at random, making it somewhat interesting. Sunn o))) instead shows the triumph of human neurosis: by deliberately styling itself as noise, and trying to build toward a dramatic conclusion with essentially linear increase in intensity in circular patterns, it reveals none of the underlying power of chaos and is in fact its opposite. This music is like a suburban housewife arranging dried lotus flowers and "found" bird feathers in order to make a rustic-looking display for her dining room table, which she will throw out a few months later when she finds a round of mites or beetles have hatched from it. In Sunn o))) we see the human trying to conquer nature by emulating it but in a form that the human mind finds convenient. Imagine this recording as a ramp, perhaps even with a "handicapped" sign next to it. It starts out at low volume, and goes to high volume. It does this with a basic repeated figure, and underneath that little epicycles of circularity etched into the details, giving you enough to listen to that you think there is some variation. But on the informational level, the variation is low: you could write this piece in five lines of computer code. However, as Opeth discovered and Sunn o))) exploited, among the basement-dwelling NEETbeards of the world there are enough grubby handfuls of dollar bills to make a career. Music like this makes them feel important and even more, to possess a secret hidden knowledge that the rest of us do not, which explains why fedora'd neckbeard hipsters should rule the world and the rest of us should just quit being whatever we are. Like all good lies, it has partial truth; the people in charge of this world are clearly hamsters. But the neckbeards should not rule us either, and nor should Sunn (((o))) grace our shelves.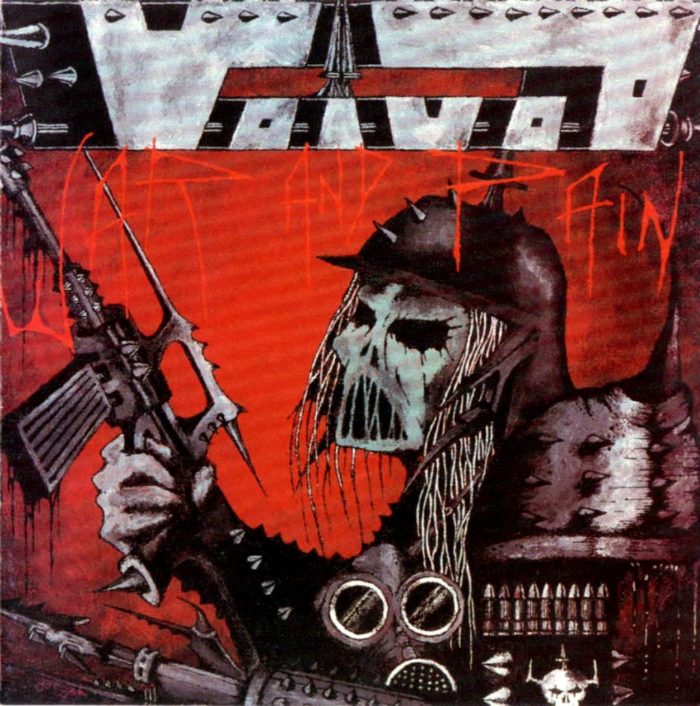 Voivod – War And Pain
Voivod contributed quite a bit, but not with this heavy rock plus punk album. At first glance, it seems exciting for its energy and seemingly clear themes. Then these emerge as a study of rock music, plus bluesy but directionless lead guitar (what we might call "lead guitar fills" or my favorite slang, "skid fills"). On the other side of this contemplation, the album reveals itself as something that we might claim to admire but will never listen to because it is basically a fast, messy, slightly more complex version of the punk/indie of the time. The metal quotient is not only low but the quality level has fallen to an unsettling depth. You can hear the band working on having strong themes but like much of the mid-1980s material, they were unable to express these as part of a continuous musical gesture, creating a sense of momentary clarity arising out of chaos. The rest is borrowed straight from Motorhead but with less grace and even less focus. The result resembles the neurosis of the French-Canadian mind: full of good ideas, but cannot connect them up because to do so would be to violently oppose being part of Canada, which in turn leads them to question many of the underlying assumptions on which they base their everyday decisions. If you listen to this album while very drunk, the noise will fade into the background and the good parts will stand out, but you will also find yourself recalling only a disjointed jumble, which is an accurate assessment of this album of promising parts and a disappointing whole. It is the perfect background to modern activities like watching television, doing needless work and watching your civilization vanish into a black hole because it is both purposeful and utterly confused, producing the perfect neurotic backdrop to increasing historical irrelevance and existential confusion.
Led Zeppelin – Led Zeppelin
How can one come out of the closet as a hater of one of the most famous rock bands of all time? Answer: I loathe rock music for dumbing down music, and tend to like the exceptions, not the rule. Led Zeppelin was the music industry's response to Black Sabbath and Iggy Pop. If you like hard driving riffs and complex dark songs, we have come up with a solution for you — heavy blues, in a dose of surf rock, with some progressive touches — that will not offend anyone because its only vices (sex, drugs, Satanism, pedophilia) are captive vices of the dominant paradigm and its corrupting force on civilization. Led Zeppelin will not make you overthrow your leaders, nor think outside of the Red Team Versus Blue Team, nor reconsider spirituality, nor even have any profound thoughts on sex or drugs. It is merely good times party music, verse/chorus with some solo-led deviations, designed to like the blues make you feel some self-pity and a lot of entitlement as you go about ignoring reality and pursuing callow pleasures. Sure, these riffs are occasionally great, but for the most part, they are variations on known themes, but without any particular joy or even direction to the end product. That is what it is, after all: a product, a radio song designed to be consumed by the distracted on their way to obedient rebellion that guarantees they will be swallowed up by the toxic, infectious and malignant modern System™ on their way to self-gratification. Do you like ancient blues leads, that were old even before the Americans ripped off Celtic and German drinking songs to invent "country" and "the blues"? How about "groove" that rewards your inner monkey and denies your brain? Every dumbass in the world loves Led Zeppelin, and for good reason. It is a king chosen from among them.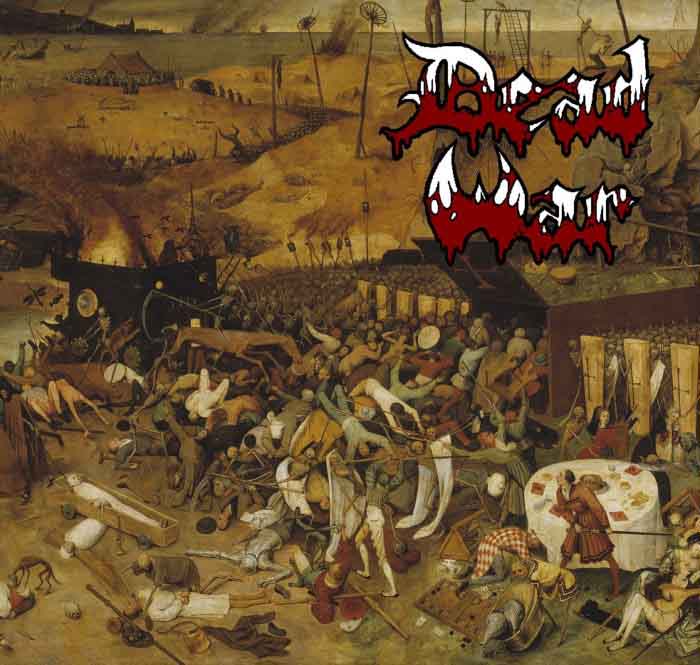 Dead War – The Triumph of Death
It is very easy to become cynical today as a music reviewer. If you value truth, you are on the wrong side of history, because the people who are going to win are those who use an "everything is great" approach to reviewing where they approve of idiocy because it advances their own individual careers. Get that? — there is no Conspiracy, only people acting in self-interest, and when they do it as an uncoordinated group they destroy whatever they are claiming to protect and nurture. So it is with metal reviewers, and the result is that you will receive an onslaught of promos in your inbox, almost all of which are mind-numbingly stupid but all of which will be praised. Do you become the lone man with a sword, the boy with his finger in the dike, the solitary cowboy stopping a stampede with his hand? Or do you choose success, social popularity, money and power? Dead War try their best to make their music work, but it is time for them to stop and make some hard choices. Triumph of Death is closest to the first Hate Eternal album, being both (1) a speed, death, black and hard rock hybrid and (2) using lengthier chromatic riffs in percussive off-time rhythms as its basis, which causes the riff to become dominant and the song to become chorus-heavy. This in turn makes these songs exhausting. There is nothing wrong with any given part; these gents play their instruments well, appear to love and understand metal, and like making heavy songs. But too much emphasis on the loop avoids what makes metal heavy, which is how it all gets summed up by a riff at the end. How it all comes together. The synergy, gestalt and synthesis not the repetition. If Dead War sits down and decides on something more than a Greek salad musical style, and starts editing/improving their songs to leave the listener in a place of emotional power and contemplation (at the same time — which is unique to metal) upon the end of each piece, they have the potential to be a top-notch band.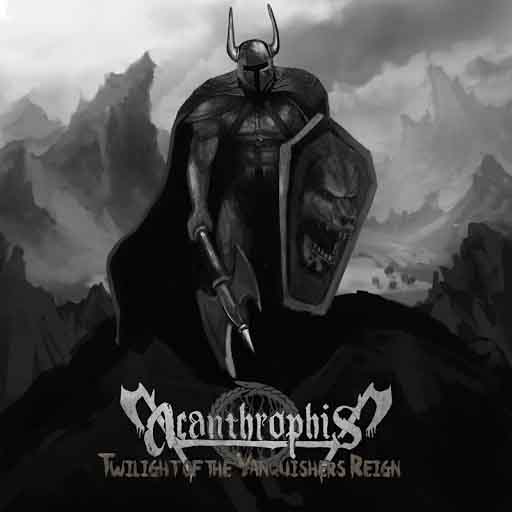 Acanthrophis – Twilight of the Vanquisher's Reign
I submit to you all that music reviewing involves two tasks: the first is pointing out the obvious greatness which most people will deny at first, and the second is finding bands that are on their way to that greatness, if they can do it. It is just like the Olympics: some are born talents (Varg, Iommi, Hanneman) and others take some time, work and introspection to get there. You know, like the rest of us in life and just about everything. Acanthrophis releases its first EP in a style that is new for its composer, which is the "blackened death" of the late 1990s plus some of the technical death metal influences that followed. Blackened death metal was a variety of death metal that incorporated the melody of black metal and some of the elegance and scene-setting of classic heavy metal like Mercyful Fate and Judas Priest. What Acanthrophis does well is continuity; each riff relates to the rest, and those to a central theme, which then leads through a negotiation to a conclusion, at which point we find ourselves in a different place. If anything, the band could accelerate this aspect to show more of the melodic relationship developing toward an emotional conclusion; melody is "emotional" on its surface, but until those emotions become mixed — as is the case always in life — and then achieve a third state where the conflicting elements find harmony, even if just with the major theme, the true power of the music is not unleashed. Acanthrophis understand this, which puts them in the rare one percent of metal bands at this point, and they do a credible but tentative job of it. With some confidence, time, energy and a chance to play these songs out, this band will learn how to streamline their material before adding complexity, and bring out the true power in this music. In the meantime, here are some riffs — actual riffs! — which do not stagnate or merely repeat like a football stadium chorus. Guitars take elaborate but not irrelevant roles in hashing out songs that are clearly based around a central theme, and which gracefully descend to a promenade-like conclusion in which all is revealed. There may be a few stumbles here and there, but not falls, which occur when a band includes something totally irrelevant. On the whole, this is one of the better things to float across my desk in some time.
Tags: acanthrophis, asperger's syndrome, coprophagia, Dead War, fetus logic, iron maiden, kreator, led zeppelin, manilla road, mental retardation, pantera, sadistic metal reviews, sunn o))), venom, Voivod