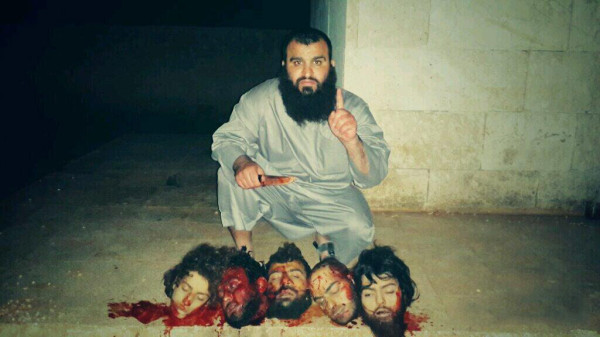 What are Sadistic Metal Reviews? You are mortal; your time is short. Listen to the best and death to the rest! We recognize that music quality is an objective measurement, where "taste" is more subjective. Taste however is easily fooled and leads you and the genre to a place of mediocrity. Thus we select the better options and mercilessly destroy the weak… if you are a false, do not entry!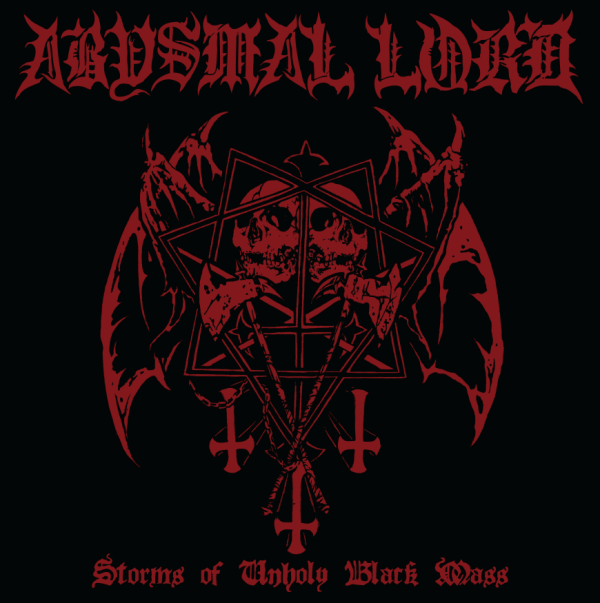 Abysmal Lord – Storms of Unholy Black Metal
Borrowing some ideas from the flowing columnar death metal fad/trend of last year, Abysmal Lord attacks this phenomenon from the opposite end, mimicking black metal like Demoncy, Beherit and Blasphemy but giving the music less of a "messy" aesthetic and more of a structured, hard-hitting death metal approach. Perhaps some would call this "blackened death," but we all know what a waffle that phrase represents. Unlike most of the clone bands, Abysmal Lord merits a second listen for tight compositions and a strong understanding of how to fit together these riffs. Alas as the saying goes there will be nothing new here to shock you, but really what is new? Little: we find music that expresses an emotion and then go with that. In this case, Abysmal Lord creates a sensation like being part of a malevolent fog attacking a city of oblivious burghers with intent to rip out their souls and force them to face the emptiness of the lives they lead. While many riffs cite from earlier bands, the overall feeling of these songs stands on its own, although the band will want to renovate ancient sounds in order to move forward with its own progress.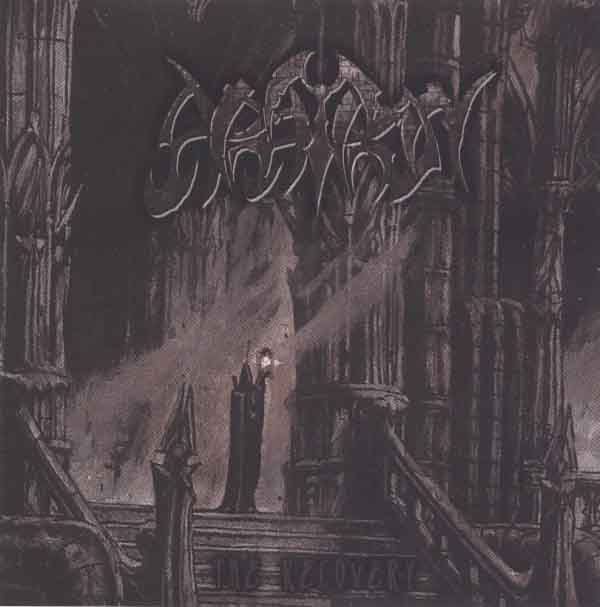 Aratron – The Recovery
Aratron creates efficient death metal in the intersection of styles between Centurian and Aura Noir, with lots of high-energy rollover rhythms pervading the riffing. The songs come together tightly and each riff fits in to the simple song structure and makes it more powerful. Like many bands of this type it stays within high-speed and mid-paced tempi and performs most of its motion with guitars over relatively passive drums. Riff forms will strike no one as stunningly new but belonging to this band in a form of its own when heard together. Unfortunately the band possesses a great weakness in the vocals which use chihuahua-style rhythms and sometimes, assemble themselves around the simplest pattern derivable from the song and repeat it slowly without variation in timbre or tone. That subverts some of the subtlety of this work which aims to be full-ahead-go and yet avoid falling into the pitfalls of that style. Periodic melodic breaks are reminiscent of Black Sabbath and show the capacity of this band for building more complex songs even when at heart they favor full-energy riff-chorus loops with a few extra riffs to reinvigorate their momentum. Many of the chord progressions used sound like these guys really like early Mayhem.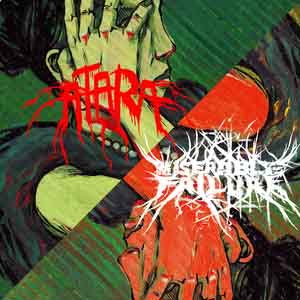 Atara/Miserable Failure – Hang Them
Two grindcore bands comprise this split, Atara who are groovier and Miserable Failure who are more manic. Listening to these, the casual metalhead will recall that grindcore fizzled like a damp fuze in the 1980s not only because all the bands upsold into Led Zeppelin hybrids but because the genre itself is so limited. We get it: short songs, screaming, noise, havoc. But when does the cliché wear thin? When do we realize that we are making a parody of what elders said about our music for three generations? That riffcraft and songwriting take a back seat to novelty? Napalm Death was "cute" on Scum and From Enslavement to Obliteration but they bailed out after that. Carcass moved on after Reek of Putrefaction, and even the mighty Repulsion left it at one album. Within a narrow scope, there is only so much to say, and so grindcore like the previous minimalist experiment in punk rock abolished itself. Atara manages solid songs with a bit of groove between the extravagant flourishes but songs are extremely similar; Miserable Failure sounds like more constant screaming with repetitive droning riffs going on in the background. In one of the great paradoxes of humanity, both are probably at the tops of their genre, and yet that is not enough for a second listen.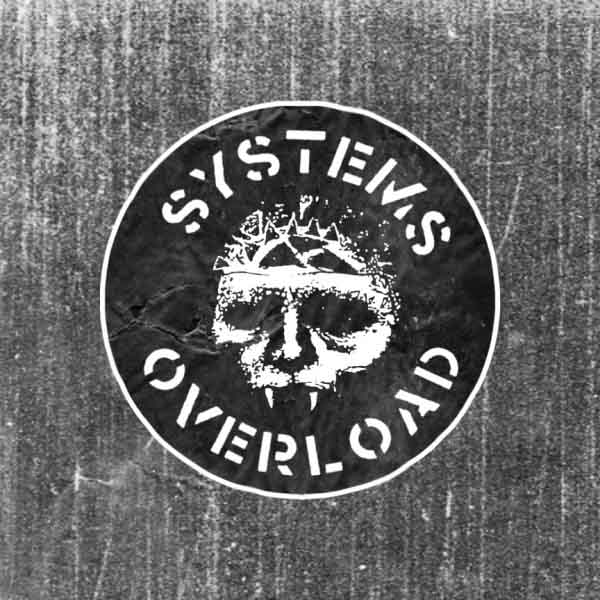 Integrity – Systems Overload
Bands like Neurosis and Integrity inspired the "sludge" revolution in metal by playing post-hardcore slowly and for atmosphere, but what attracted the industry was that as these bands gained experience they began sounding more like regular rock music. This allowed the simple calculus of all record labels: new thing / same old thing = new thing we control. This Integrity album shows the band pulling back from the punk and into the punk rock while keeping the aesthetic — the numerator of the fraction above — of hardcore, but adding in the raw structure (the denominator) of basic rock songs. You will recognize many of the patterns on this album from hard rock and classic rock albums, although to their credit Integrity have thoughtfully modified them and extended them, mixing the single items up across songs so that nothing sounds exactly like something else. In this, Systems Overload is one of the most professional albums to come out of punk; they worked hard on making every bit of this fit within the product range the audience expected but with a new aesthetic so it could be branded and a differentiated product. In that area this album is admirable, and it makes for easy and pleasant listening other than the strained and soar throat vocals, but otherwise it strikes me as music for the inexperienced that would be fun for a season and then discarded.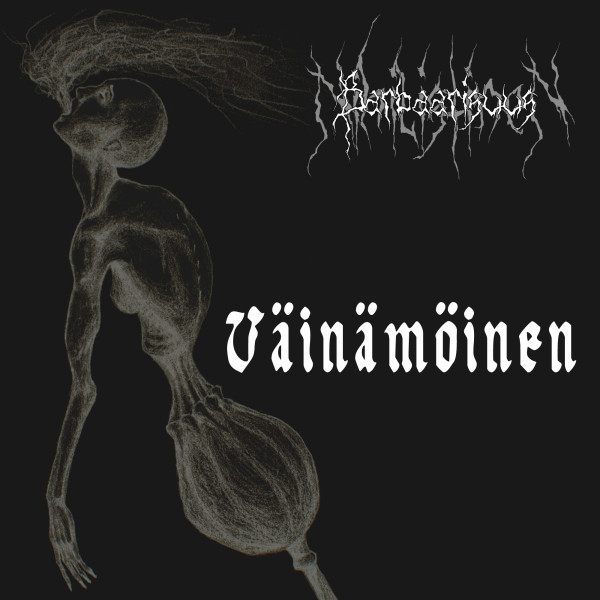 Nihilistinen Barbaarisuus – Väinämöinen
This two-song EP evokes the golden days of Bathory with a long and hypnotic track followed by an acoustic instrumental, but owes more to the Norwegian wave such as Burzum and Gorgoroth. Much as with the latter, it composes in the melodic minor scale, and borrows much of its sense of pacing and trancelike riffing from second-album Burzum. This creates a sense of being suspended in time while watching for action to occur within a scene, and the use of flowing tremolo suspends reality much as it did with Gorgoroth and Graveland, another background influence — by the sound of things — on this band. The first track expands to six minutes on a few short themes and develops internal counter-melodies to give them depth (a less-overused version of the technique in Borknagar), which avoids the lazy wandering of bands like Drudkh or Inquisition, and instead creates a deepening sense of mood. The second track uses acoustic instruments and creates a folkish aura for the first, developing similar themes as if shadowing darkness with light. Much like other faithful retro-continuation projects such as Woodtemple, this music maintains integrity and avoids the pitfalls of contemporary music. It may not be the most exciting owing to an internal balance that is not as savagely unbound as Burzum, for example, and to its arrival twenty years after these techniques hammered audiences for the first time. However, unlike almost all from the genre today, Väinämöinen understands how to make beauty in the darkest despair of the human soul, and from that find not a contrarian impulse toward "good" but a desire to resolutely wage war on all that is inferior and thus, raise the darkness to a higher level of clarity that approximates beauty.
Tags: abysmal lord, aratron, Black Metal, death metal, integrity, nihilisten barbaarisuus, sadistic metal reviews