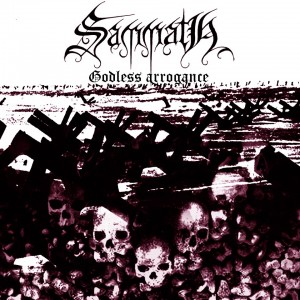 Dutch-German furious black/death metal band Sammath unveil their most promising material to date with a new song "Fear Upon Them" which reveals the many influences of this underground metal band. While some of its works sound like Morbid Angel or Perdition Temple with an underlying melody line, other songs are wholly melodic and go more into black metal ambiance.
"Fear Upon Them," which is the latest single released from Godless Arrogance, shows Sammath going back to their roots. Specifically, the most furious melodic black metal bands to walk the earth, namely Immortal and Bathory. By slowing down the drum tempo but speeding up the strum tempo, Sammath create an unearthly sound like a dream in fog.
On top of this, the band add riff development and a sense of the unexpected yet not obviously quirky and contrarian, which means that songs slide into their own personalities and transcend their influences. In this case, "Fear Upon Them" wears its influences on its sleeve, more as a tribute than a blueprint for emulation.
The album Godless Arrogance will come out on Hammerheart Records later this year.
Tags: Black Metal, death metal, sammath