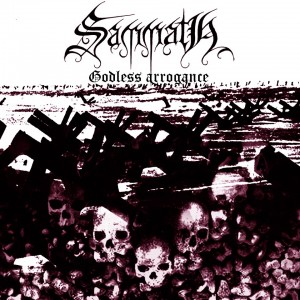 Hammerheart Records has set a release date for the fifth Sammath album, Godless Arrogance, which will see worldwide release by the Dutch label on February 3, 2014.
You can hear a sample track in high definition at the Hammerheart Records Sammath Godless Arrogance page for "Fear Upon Them". This track showcases not only the songwriting of the new album but the production you'll hear which improves upon past Sammath releases.
Creating music in the style of fast ripping death metal with the underlying melody and moodiness of black metal, Sammath deliver a blast of fury and beauty that resembles the second Immortal album crossed with Fallen Christ. Godless Arrogance may help renovate metal in 2014.
Tags: Black Metal, death metal, sammath