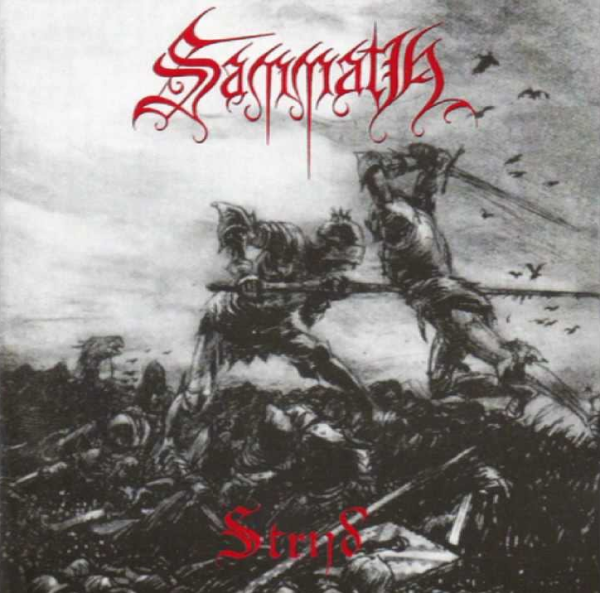 Sammath unleashed its debut album Strijd in 1999 to not much fanfare. The black metal community had essentially collapsed under a wave of Dimmu Borgir/Cradle of Filth clones, and the underground had retreated to the Full Moon Productions board to re-style punk riffs as black metal and make boring music that is forgotten at this time. Almost no one wanted to simply keep their eye on what had worked and make it return.
As our review published at the time opined, however, Strijd succeeded because it conveyed both the elegance and violence of black metal, instead of becoming a top hatted children's show satire focusing only on what the Thomas Kinkade fans of the world think is "elegant" (in America at least, every pretentious but incompetent person must have at least one Thomas Kinkade painting, Ansel Adams print, and dreamcatcher). Sammath brought back the ancient feeling, the meditative look at a life shrouded in darkness, and the misanthropy and intolerance for stupidity and lies that made black metal so satisfying in the midst of the lie-drenched 1990s.
Hammerheart Records has been focusing more of its attention on resurrecting classics and picking out modern bands with the same power, which seems to signal that the great metalcore trend is on the wane and people are looking for the kind of power they found in traditional metal genres, again. Strijd delivers this in high-powered generous doses but also maintains its introspective side, creating the perfect melancholic warrior album for a dying world. Although a date for the vinyl re-issue has not been specified, it is something to look forward to sometime in the latter half of 2015.
Tags: Black Metal, hammerheart records, jan kruitwagen, re-issue, sammath