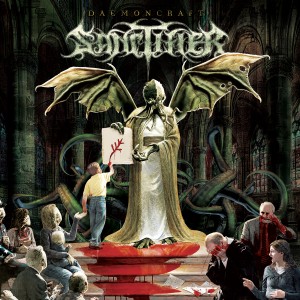 Sanctifier craft fine quality vintage-sounding Brazilian death metal, straight forward and without the desire to pander to the elitist shit contingent wanting the next trend. These death metal maniacs have been kicking around since they were teenagers in the 80s and are not children of the tape-trading phenomenon but instigators of it.
For that reason, while Daemoncraft displays its Brazilian sound right off the bat with a warped rhythm weaving through opening track "Demon Ov Lava" (which is also added as a bonus track with Portuguese vocals at the end of this CD) they're also influenced by their peers of the time such as Immolation and latter-era Morbid Angel (i.e. during Rutan's relocation from Redbank to Tampa). To my ears at least, this mid-period death metal influence shows up musically on this recording and appears more prevalent than other pioneering influences the band naturally does have.
Getting robbed at gunpoint and thus losing his equipment didn't hold sole song writer Alexandre Emerson back from creating some wicked songs yet again in the name of worshiping the ancient ones, even before it was a fashion with the young whipper snappers after this sort of music became available at the mall. The cult of Cthulhu remains central to the driving force behind the writing of this music. Lyrical content avoids any crypto-punk subject matter which was par for the course when this band were teenagers and is consistently so now that they're seasoned elders of the genre.
Daemoncraft emerges as a compact album with some amazing guitar work that has just the right amount of more modern (i.e. early 90s style) feel meshed with the primitive proto-death metal of the 80s from which this band is forged. "The Enchanter" is a good example of this layering of feeling between the two realms. However, the song is consistently deliberate throughout and makes for an excellently paced album.
I agree with executive producer Everton De Castro of Dying Music when he says Daemoncraft is a work for metal brothers of the death metal old school; for those who aren't just here for a trend, is there any other kind?
Tags: death metal, sanctifier