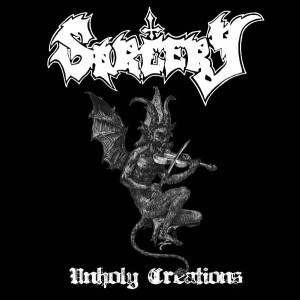 Hells Headbangers began shipping the Sorcery Unholy Creations 2CD compilation of this band's works a few hours ago, which makes it time to delve into this band's history.
Since so many of the revivals of late are either disappointing new albums murdering promising careers, or revivals of disappointing past material in an attempt to launch a better career, it is worth approaching any new material especially any new Swedish death metal material with skepticism.
In this case, the skepticism is well-deserved. There is a reason that demos like "Maculated Life" and "Unholy Crusade" stayed mostly in the past. While the band has kept releasing, unleashing full-lengths in 1991 and 2013, the foundation of their career is this early work which gets them inside the window in which Entombed, Carnage, Nihilist, Dismember, Therion and Unleashed thrived.
However, a more apt comparison for this band's older material might be to a cross between Desultory and Grotesque, except with more of a grounding in the speed metal of the previous era. Big, bold and somewhat boring chord progressions underlie riffs which reveal a heavy metal lineage and the recursive, percussive rhythms of speed metal.
Unholy Creations faithfully compiles most of the band's past ouvre, missing the Rivers of Dead EP from 1990, but at the end of the day, the verdict on this band is that they're not what we're all hoping for: the undiscovered successor to Entombed. With that being said, it's also worth noting that this band is stuck in the past of death metal, namely too much speed metal, and also isn't very exciting or even as melodic and elegant as Desultory.
http://www.youtube.com/watch?v=__KB_g03Fvk
Tags: death metal, sorcery