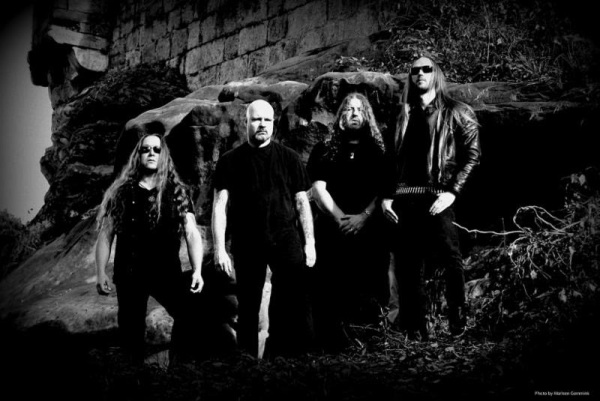 Including former Asphyx drummer Bob Bagchus and original Asphyx guitarist Eric Daniels, Soulburn — known to many as the "off-brand" version of Asphyx during personnel shakeups — returns with a 2014 album entitled The Suffocating Darkness to be released via Century Media on November 17th in Europe and November 18th in North America.
As Asphyx continues its drive in parallel with Hail of Bullets to make a modernized form of its pounding abrasive death metal, those who are less committed to playing as a professional band have shifted to Soulburn where they can keep normal lives and still produce music. For Asphyx fans, this move provides two benefits, namely the more commercial version of Asphyx dominating the airwaves while the more underground version can more flexibly explore its style.
Bagchus and Daniels add Twan van Geel (Flesh Made Sin, Legion of the Damned) as vocalist/bassist and Remco Kreft (Grand Supreme Blood Court, Nailgun Massacre, Xenomorph) as a second guitarist. The album was recorded with Harry Wijering (Harrow Productions), mixed and mastered by Dan Swanö (Unisound Recordings) with artwork from Timo Ketola and Roberto Toderico.
"Bringing Soulburn back to life was a natural thing to do since the inspiration was huge, more than ever before. Playing the old songs as well as the new incantations is a blessing. The riffs and thus the songs kept coming and coming and we knew we were on the right track. The new deal with our longtime label Century Media Records was the next logical step," said Bagchus.
SOULBURN line-up:
Twan van Geel – vocals/bass
Remco Kreft – guitar
Eric Daniels – guitar
Bob Bagchus – drums
SOULBURN tour:
21.09.2014 – Bremen (Germany) – Schlachthof *sold out*
22.09.2014 – Essen (Germany) – Weststadthalle *sold out*
23.09.2014 – Berlin (Germany) – SO36 *sold out*
17-19.04.2015 – Tilburg (The Netherlands) – 013 / Neurotic Deathfest
Tags: asphyx, century media, death metal, hail of bullets, soulburn