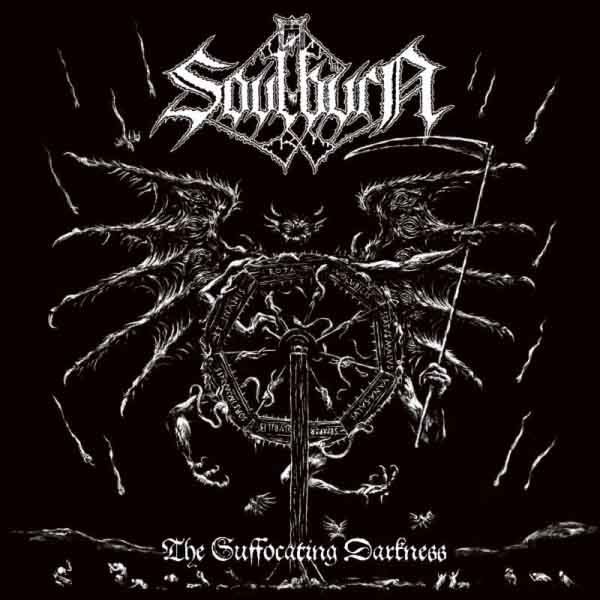 Dutch underground metal band Soulburn — formed from the ashes of Asphyx and related acts — carries on in a new direction with new track "Under the Rise of a Red Moon" released in advance of forthcoming November release The Suffocating Darkness.
This track shows more of a black metal vibe and trope to this band, eschewing the percussive feel (and left-hand-mute sheeting distortion guitar technique) of Asphyx in favor of a dark atmosphere with melodic continuations driving the song, which was the style of black metal that exhibited the last gasp of an underground through bands like Deathspell Omega and Inquisition. However, the band cites first-generation proto-underground bands like Celtic Frost and Bathory as well as NWOBHM band Venom as inspiration, although Soulburn exhibits technique from later black metal.
Soulburn features Asphyx anchor and drum talent Bob Bagchus but also Eric Daniels, who wrote some of the more interesting guitar on early works up through the self-titled album, although by that point he had exited the band. Added to the list are Remco Kreft on guitar, who played with Daniels in Grand Supreme Blood Court, and Twan van Geel on bass. Notably missing is Wannes Gubbels of Pentacle who may be responsible for the melodic direction that Death… The Brutal Way took which was missing from the more mechanistic Deathhammer. However, Daniels and Gubbels serve similar roles in creating the melodic understructure of songs.
Billing themselves as "blackened death metal," Soulburn clearly seek to distinguish their music from the choppy explosive death metal that Asphyx and related acts like Hail of Bullets are currently producing. "Under the Rise of a Red Moon" features a dark and lush ambiance with song structure mutations in unexpected places, leading to a sense of destabilization and ambiguity. This contrasts the style of Asphyx, which increasingly sounds like a reduction of the world into discrete and concrete statements, and embraces a future of dystopia and confusion.
Drummer Bob Bagchus, who left Asphyx at some point after they started to sound like Hail of Bullets, leaves us with this summary: "This track shows well what Soulburn is all about: cold, dark and grim blackened doom/death metal. 'Under the Rise of a Red Moon' is furious and contains all the elements we love the most about metal. This song also shows that one does not need many riffs to create a grim atmosphere…this is a mid-paced assault with a pure and heavy 80s feel, just how we wanted it!"
Tags: asphyx, blackened death metal, century media, death metal, soulburn