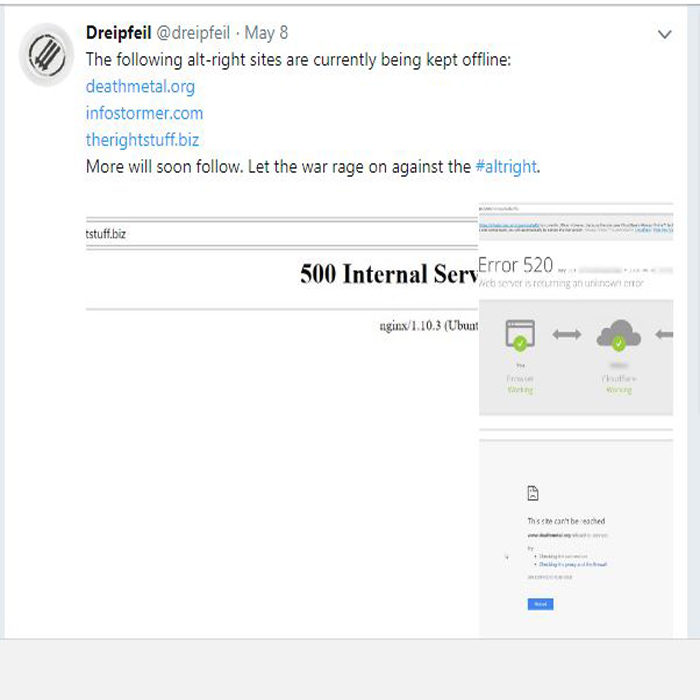 A bunch of pussy beta male cucks have spent a ridiculous amount of money on a botnet to shut down Death Metal Underground, the free speech social network Gab, and a number of Alt Right websites such as Amerika, The Right Stuff, and American Resistance.  Why did they consider DMU "Alt Right" despite the fact that we've never written about race and have even expressed support for Israel emasculating their scumbag neighbors?  The answer is simple- DEATH METAL UNDERGROUND IS DANGEROUS AND FEARED BY LIFE'S LOSERS.
In an age where the terms "far right" "Alt Right" "fascist" "Nazi" and "racist" are all collectively lobbed at anyone who expresses social/political/cultural views that are not liberal (including centrists), depressed failures are dedicating much of their time and money to try and shutdown any school of thought outside of the pop culture group think of the moment.  This has spread to all forms of society, ranging from the mainstream normies to obscure music genres as niche as death metal.  With nothing to look forward to in their future, these neo-communists want to drag the entirety of society to their world of emptiness and sorrow.  A world where feelings supersede logic and nothing matters in the world outside of the individual's comforts.
The war with the left must be waged in every space, on every front, by every rational human being in this nation.  Therefore Brock Dorsey, Brett Stevens, and the whole Death Metal Underground team will keep fighting until we are obliterated from cyberspace.  Fortunately, this fate will take a lot more than a lightweight botnet and a bunch of nu-male dweebs spending a ton of money to do little more than elevate our status to the stuff of legend.
For those of you new to this vicious corner of the internet, Death Metal Underground is a no-holds-barred music site dedicated to extreme metal- the most alpha, masculine, badass music on the planet.  Rooted in romanticism, mused by Western philosophy, and fueled by an aggressive pursuit of truth, death metal and heavy metal are the epitome of Western art.  The metal creed is one of honesty, depth, wonder, and timelessness.  The culture, scene, world of metal was a wild-west style wasteland of societal outlaws of every school of thought where no idea or ideology was too extreme.
But over the past ten years, the genre was co opted by rejected, awkward, overweight, mutated, zit faced losers with a bitterness for the world they were never able to contribute much to.  Undesired and unable to compete in every other corner of life, these hipster wastes of flesh invaded the world of metal (and concurrently, every other non-mainstream music genre) and attempted to turn it into the egalitarian safe space where they could feel safe from the harsh truths of the modern world.  Their goal is to institute communism in heavy metal by setting it's culture in step with popular culture, embrace the social progressiveness of far left politics, weeding out any diversity of thought and attitude, and distribute mediocrity amongst everyone so everybody feels like they are part of the herd.  Completed by a far-left socialist media that seeks to defame and destroy the careers of anyone that does not share their school of thought, these failed human beings have often aligned with Antifa and other propaganda arms of America's Deep State.
With every other metal site embracing the socialist Anti-Trump stance of the mainstream media/culture, Death Metal Underground was the only heavy metal site (and possibly, the only music site) to embraced social and political conservatism.  In our quest to prevail the true, elitist, core qualities of metal we found yourself engulfed in a larger fight to delay the decline of Western Civilization.  With heavy metal rooted in romanticism, European history, and a perennial quest for the deeper truths of existence, Death Metal Underground became the stark opposition to what the regressive left is trying to push on our world.
And this is why they want to silence us.  This is why Brett and I are banned from Twitter, Facebook, and other social media outlets.  Because we preserve the truths of Western Civilization that are not kind to the weak.  Because we know that metal is not a pop-culture hipster fad that should adapt to whatever cultural views are currently popular.  Because we're not afraid of being masculine, European, American, heterosexual, God-fearing, or whatever else they're telling us we should be ashamed of.
With heavy metal music only comprising 7% of music streamed today, one may not think it's worth defending.  But this culture war to restore the West must be fought with absolute heart, by strong leaders, on every front, at any expense.  Because our culture, history, future, existence matters.  Because the restoration of the West is a cause that outshines any other.
Attacks will continue.  War will continue.  But nobody does war better than us.  NOBODY!!!
Prepare yourselves- it's gonna be brutal!
-Punished Brock Dorsey
Tags: alt-right, American Resistance, amerika, BotNet, brett stevens, Brock Dorsey, censorship, culture war, DDOS, death metal underground, Gab, leftism, sjws, soyboys, The Right Stuff, total war, under siege, victory, Western Civilization