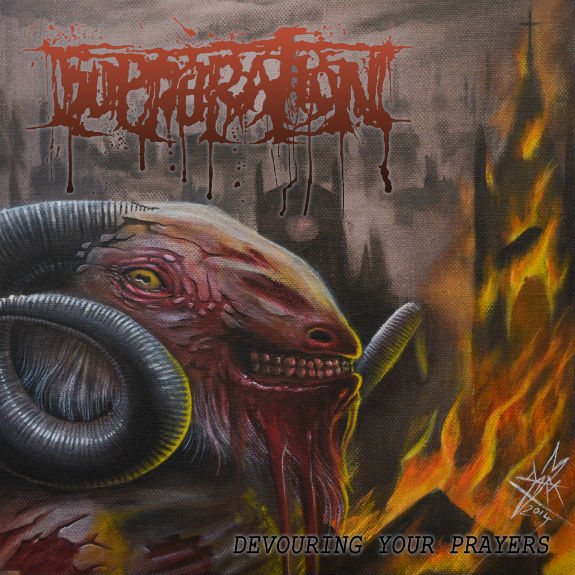 Opening with a piano section that is completely out of place within the context of their music, Suppuration give us brutal meets groovy streamlined and uneventful death metal with croaking vocals whose creativity and character borders on the comedy of pornogrind.  A  major cause for this might be the production which sandwiches everything into a very narrow frequency range. The drums feel as if they were behind everything else, the guitars and the voice almost superimposed.  But the production is not to be blamed for the composition blunder this whole affair represents.
Devouring Your Prayers shows several marks of incompetence. In this album we can find distracted riffing and drumming that doesn't completely match, it is as if the musicians where just doing their own thing and they assumed that as long as they were playing in the same tempo and time signature everything would be fine. Second the interludes are completely extraneous to the album, from the musical point of view. Even worse, we find the modern tendency to move from one idea into a completely unrelated one in order to move the music forward. This is a metaphor for denial of reality, not progress.
The band manages to sound both overt yet devoid of character and completely lacking an individual voice. Presenting us with the fireworks, bells and whistles aimed at casual listeners of "the brutal", Suppuration exemplifies the mediocre, the sell-out and the moronic side of death metal all at once.
Tags: 2015, death metal, devouring your prayers, Suppuration