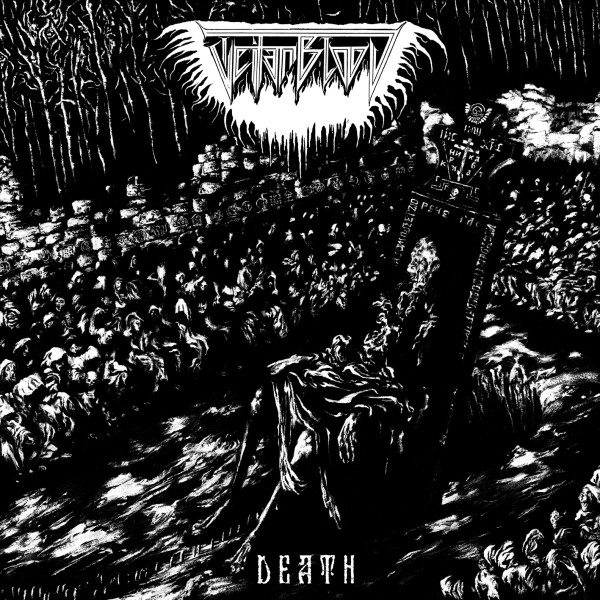 After black metal collapsed, fans went looking for the next great genre to fill the void. Unfortunately, the only "new" developments post-1996 have been of retrogression. Whether combining metal with vapidity ("post-black metal"), commercialism ((Watain, Satyricon)), or frequently both; fans were left without any direction to look to. After reviewing the situation, some honest people realized that "progression" was a sham and the solution was to take metal back to its earlier underground roots in death and speed metal.
Enter Teitanblood.
First, it must be mentioned that this band has a great many features pulling it ahead of 98% of contemporary death and black metal bands. Most importantly, the band is actually metal. It is not pop, grunge, or Japanese videogame music masked with metal aesthetics. Second, the music is competently organized in a manner which facilitates quick understanding of what the band is trying to achieve. Tracks are chaotic bursts of energy which merge the frenetic, kinetic mayhem of black metal with the lucidity of structure offered by death metal. Stream of consciousness motion stays grounded by the relatively consistent vocals, which serve as an anchor between the listener and the assault.
However, this type of composition is not without its pitfalls: due to its nature, songs end up sounding relatively uniform. This is not unheard of in the realm of death metal; however, the band seems to be discomfited by this and thus inserts disruptive moments which share more in common with modern black metal than is comfortable. These consist of slower, "ritualistic" meditations, which in reality is merely minor chord noodling over constipated rantings. Presumably this is supposed to compensate the direct audial rampage offered by the higher-energy sections with a darker mood, but it ends up sounding like a gimmick.
For Teitanblood to progress, it needs to learn how to unify these tendencies into a coherent presentation. If it achieves this, it will deserve all the praise heaped upon it now, but genuinely – as of now, the universal praise of this band reveals the general starvation of the underground metal community for quality releases.

http://www.youtube.com/watch?v=MgQ03q0IaGo
Tags: death metal, teitanblood