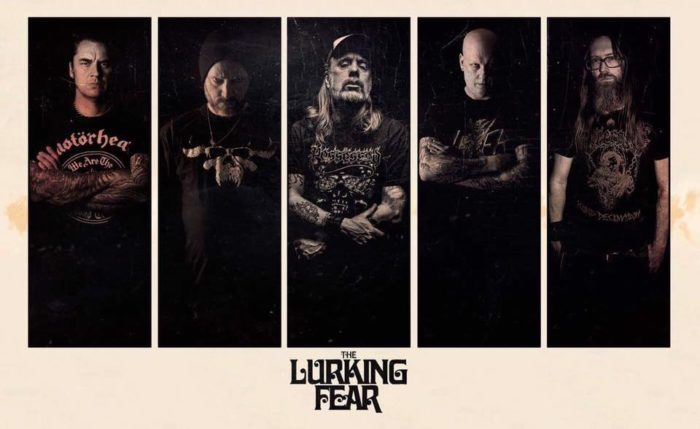 The Lurking Fear, the new band with Tomas Lindberg and Adrian Erlandsson from At the Gates, previewed a new track from their upcoming Out of the Voiceless Grave debut album which comes out August 11th on Century Media.
"Vortex Spawn" sounds Tomas Lindberg is fronting one of those random atonal techdeaf bands that fail miserably at actually writing music as they are instrumental wankers who wish to roofie and blow Gorguts backstage after opening for them. "Vortex Spawn" is slightly better than that as The Lurking Fear have a previous band of Lindberg's to rip off, Grotesque, in what would be a riff salad if it were not written from lobotomized and chopped up Grotesque compositions. Yes this new single sounds like Portal, Deathspell Omega, or Blood Incantation are trying to imitate Grotesque as they thought the all-encompassing In the Embrace of Evil CD was dope in 1996. They fail. Buy that disc if you haven't already. Ignore this.
Vocalist Tomas Lindberg gave insight on the song's meaning by stating, "To us, this track sums up all the raging, interstellar evil that we tried to convey with this album. We want the riffs to slither out of your speakers like torrents of tentacles, crowned in festering doom. The vocals pulsating with aeons of filth and death. Spewing out of its cosmic, voiceless grave: the "Vortex Spawn". Timeless Death"
Where is the "raging, interstellar evil: in this turd? Tomas Lindberg is making this track sound like a Lovecraftian entity or Grand Moff Tarken. What a pitiful shilling attempt. Where is the uncaring exterminating evil? I do not hear any malevolence at all on this track; I only hear noodling. I want to eat spaghetti. That would be a great meal. Better than listening to "Vortex Spawn." This composition is not freshly-grated Parmesan cheese. It is not even Cheez Wiz. "Vortex Spawn" is rotten cottage cheese being dumped all over your previously delicious pasta.
Tags: Adrian Erlandsson, boring, century media, century media records, death metal, mainstream metal, new track, rehash, single, the lurking fear, Tomas Lindberg, upcoming album