The University of Victoria English Department and the Heavy Metal department at the University of Victoria invite paper submissions for their upcoming conference, Tribe & Rite: A Heavy Metal Student Conference. The conference will be held at the University of Victoria, Vancouver Island, British Columbia, Canada on November 8-9, 2014.
According to the organizers, "Metal culture celebrates the wild, the grotesque, and the forbidden. We invite papers on these themes from across the humanities, social sciences, fine arts, and related disciplines. Papers can draw on lyrics, musical technique, aesthetics (music, fashion, album art), innovations in metal, regional and historical metal movements, and more."
The organizers suggest the following possible topics:
The makings and markers of a metalhead
Metal as genre, subculture, counterculture, or tribe
Rites and rituals of regional/historical metal movements
The transformation of metal by academia and vice versa
Generational differences in metal
The influence of metal on other cultural movements (e.g. punk, hippy), and vice versa
Comparison of metal with other cultural movements
Comparison of subcultures within metal (e.g. the radical politics of crust, the Satanism, neo-paganism, and occultism of black metal)
The future and fate of metal
Inclusive and exclusive behavior among metalheads
The relationship between metal music and memorabilia
Submissions must be send in Microsoft Word format to metalcon@uvic.ca by October 3, 2014. For more information, see the Tribe & Rite: A Heavy Metal Student Conference homepage.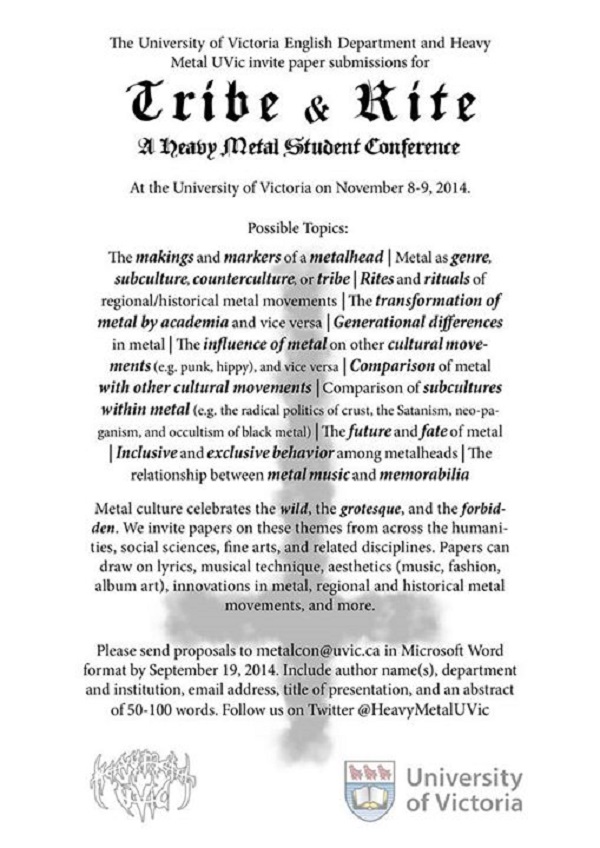 Tags: Heavy Metal, heavy metal studies, metal academia, metal academics