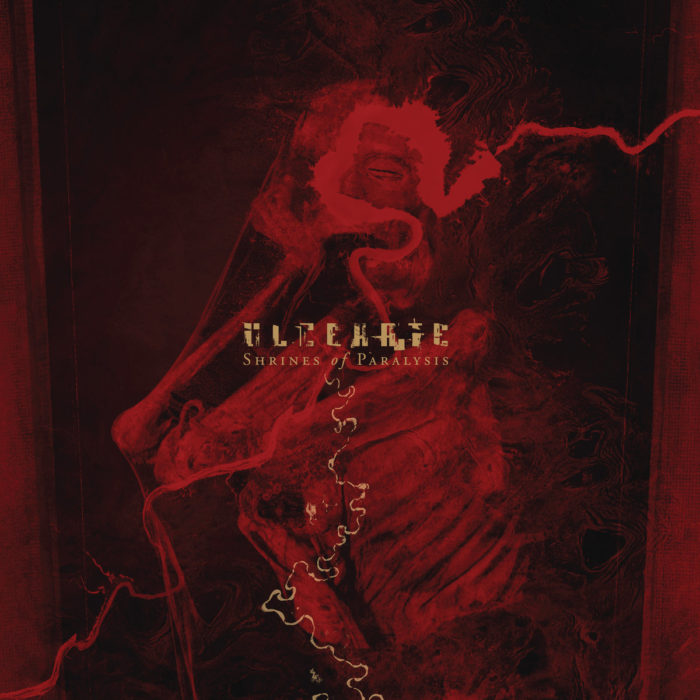 These dudes are from New Zealand. Cross A Perfect Circle with Vader, Fear Factory, and Immolation and you get Ulcerate.  Taking a listen to this band, I want to thank your country for Dead Alive, but cannot help but think this album begins with an instant headache.  I love the mid range DM vocals, and feel that they are really strong.  The guitar comes across as missing something. At the 3:37 mark the guitar starts coming through with some darker, catchier moments.  I cannot help but think the drums are a bit over-processed, and are being a bit overplayed. The snare sounds cool, but the double kicks are a bit distracting.  To its credit, these songs are unpredictable. However, they could use more of a hook.  There is a bit of a 90s industrial thing hidden in there, along with a little bit of Immolation off-balanced riffs.  You have to listen real hard to hear it, but it sounds like bass distortion with a pick on the low end, adding some gnarleyness.
The second song is catchier and more enjoyable, with a little more triumphant spirit. The vocals continue to kick ass.
There Are No Saviors, track 3, gets bonus points for cruel naming. I like the guitar swell and low key roadhouse intro, followed by some groovy grinding. There's a fun blues breakdown in the middle of the tune, where the overactive drums sound nice. Compositionally this song shines. Nice polyphony at the end too.
Shrines of Paralysis has a fittingly mystical sounding opening, gradually building tension towards something larger. This tune has a strong momentum, and nice chords and textures. At 3 minutes there is a fun blast with guitar chords rung out. The vocals are coming across like Vader-ish at this point. Again, interesting compositionally.
Bow to Spite has the nice puke bass barf intro which calls to me for a nightkill. Needless to say, this is a killer song. It sounds like someone is getting dragged out to the meathouse to be chopped with a chainsaw, deservingly. After all Buddy has an axe to grind, a big axe!
On Chasm of Fire the first two minutes kinda dragged and didn't do it for me. Great blast and nice epic trebly guitar riff around 2:40 though. This song gets better as it goes along. But then it goes on a bit long now, doesn't it?
Extinguished Light, another title I like, has some really nice catchy dark riffs. It sounds very overbearing and forboding, like Wagner at his best. Still, after the 5 minute mark I feel it could have been broken into two songs.
The final track, End the Hope, has a great second riff, with strong vocals and blasting. The riffs kind of stream on here though, without enough pontification. Something simpler and catchier to wrap the album up would have been stronger. This last part makes me feel too emo.
Overall, this was a well balanced album, considering how much ground was covered musically, in which the strong vocals really shined throughout. The bass/distortion with pick also really did it for me. The guitar could have been a bit catchier, but was a good representation of unique style. And the drums were a bit over-processed, as well as too busy. However, the drums also displayed total mastery of the instrument itself, so very hard to deduct points for that.  The guitar got a bit too emo, I realized towards the end of the album, which created confusion for me in terms of grading.  Overall I would recommend this album to a friend to listen to, in order to get a second opinion on the overall impression left by this album, as it is unusually open to interpretation.
Tags: A Perfect Cricle, death metal, fear factory, immolation, modern death metal, ulcerate, vader