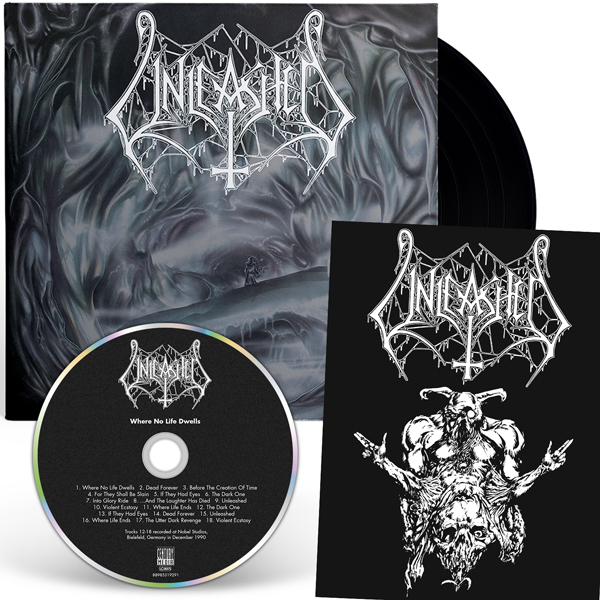 Unleashed's debut and most coherent album, Where No Life Dwells, is being reissued by Century Media Records.
Fans will be able to purchase Where No Life Dwells and experience Unleashed's blend of NWOBHM and crusty Swedish death metal in a dual format package conveniently containing both the LP and the remastered (more louder) CD from 2001.
Back in the late 80's, a Swedish underground death metal band named Nihilist turned into the breeding ground from which two big players of the genre emerged: Entombed and UNLEASHED. Together with Grave and Dismember (R.I.P.), these bands are crucial for turning the punkish Scandinavian death metal sound into a global phenomenon, defining and refining its stylistics, and making it a successful genre to the very day. Parallel to records by Asphyx, Tiamat, Grave, and Morgoth, UNLEASHED's debut album Where No Life Dwells was one of many all-time-classics of death metal released in 1991 via Century Media Records, and celebrates its 25th anniversary in 2016.

This is a perfect opportunity to bring back this timeless and gloomy masterpiece as stunning vinyl edition offering new fans the chance to discover a true classic. Featuring a re-creation of the original sleeve design, top notch vinyl mastering by Patrick W. Engel / Temple Of Disharmony (Possessed, Iced Earth, Paradise Lost & many more) as well as attractive bonuses such as a poster and CD version with seven additional tracks recorded in 1990 (taken from the 2001 CD re-issue), Where No Life Dwells remains a landmark album by the long-running Swedes. Enjoy an utterly dark milestone of death metal!

Where No Life Dwells is available in the following limitations:
– black LP+CD & Poster – not limited, available worldwide
– silver LP+CD & Poster – limited to 100 copies, exclusive to CMDistro Europe
– dark green LP+CD & Poster – limited to 200 copies, exclusive to Nuclear Blast Europe
– golden LP+CD & Poster – limited to 600, available via CMDistro Europe & US
– light blue LP+CD & Poster – limited to 400, distributed via RED and CMDistro in the US

Pre-order your copy via CMDistro: http://smarturl.it/unleashedCMDistro

All maniacal collectors please take note that due to the fact the original silver sleeve was harder to re-create than expected, there are 150-200 units across all colours circulating which lack this silver effect. Call yourselves lucky if you have one as these are the rarest vinyls out there.
Tags: century media, century media records, death metal, news, reissue, Swedeath, Swedish Death Metal, Unleashed, vinyl, Where No Life Dwells