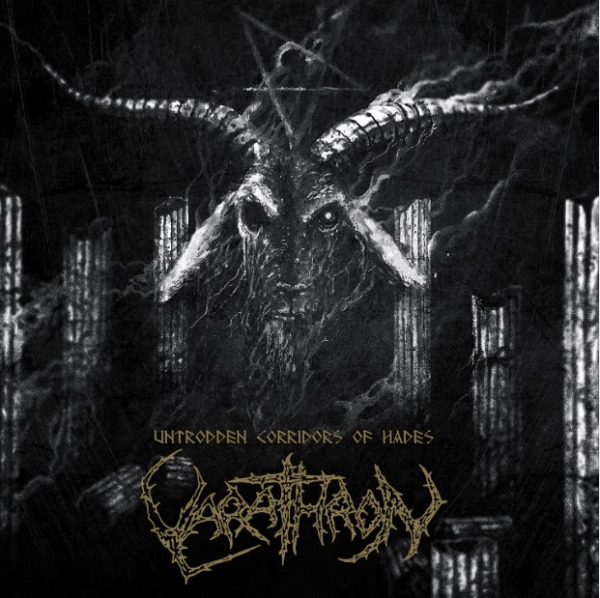 Greek black metal founders Varathron return with a new album that takes the band in a modernized melodic metal direction but does so without losing the unique balance of heavy metal hooks and dark atmosphere that defined the debut, His Majesty at the Swamp.
Untrodden Corridors of Hades, which will see release via Agonia Records on November 21 in Europe and December 9 for the rest of the world, veers away from the old school doom metal sound of the debut but picks up with a version of the melodic metal of Walpurgisnacht but in a modernized style. This new style adopts the frenetic pace and compressed song structure of contemporary metal, but within that style, the ear for melodic composition and atmosphere of the original band makes itself audible.
With a cover by famed metal artist Mark Riddick, Untrodden Corridors of Hades was recorded, mixed and engineered by Kostas Kalampokas at Infinite Loop Music Studio in Greece and mastered by Tom Kvålsvoll at Strype Audio in Norway. The new album resembles 2009 release Stygian Forces of Scorn but with new energy and louder sound, as the embedded sample below reveals.
Tracklist:
Kabalistic Invocation of Solomon
Realm of Obscure
Arcane Conjuring
Leprocious Lord
The Bright Trapezium
Death Chant
Delve Into the Past
Line-up:
Stefan Necroabyssious – vocals
Achilleas C – guitars
Sotiris – guitars
Stratos – bass
Haris – drums
Tags: agonia records, Black Metal, melodic metal, varathron