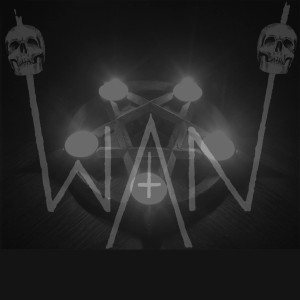 Genres aren't arbitrary things. They have certain ideals and certain boundaries, like all ideas or practices. Some people find that constraining and want things to fit in certain genres just because they say so.
Such must be the case with Wan, which is labeled as black metal and has been repeatedly introduced as such. It isn't. This is a great late hardcore record, and thoroughly enjoyable as that, but it isn't black metal. Not only that, it would be a total failure at black metal, so it's unwise to list it as such.
Calling to mind Impaled Nazarene's Latex Cult, which arose when that band decided black metal was out of possibilities for the time being, Wan Enjoy the Filth is bounding, high-energy hardcore riffs and simple verse-chorus songs. This one comes out of the gate rockin' hard with riffs that seem inspired by Discharge, Terveet Kadet, the Exploited and GBH. Others might point out late-1990s punk like Driller Killer and Disfear, Dischange, etc.
Most of these songs are based on bottom two-string power chord riffs in the hardcore style, which means they're less built around phrase and more around droning interrupted by a catchy rhythm. Drums keep up a d-beat or a similar "background" rhythm while vocals belt out a series of ambitious lyrics involving war, evil and hatred.
If you want to compare this band to anything, the aforementioned Impaled Nazarene is the closest link to "black metal," but it has more in line with the late-1980s hardcore like Sick of It All, albeit in a more European-descended form. It's quite enjoyable to listen to, and probably won't stick around for too long, but it's certainly not black metal.