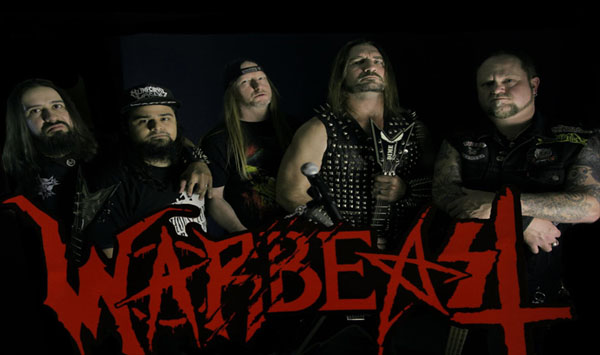 Those of you who have read our coverage of the Housecore Horror Film Festival know that it's a music/movies event starting today in Austin, TX that will feature a number of prominent metal bands.
Among those, Warbeast stands out as a unique hybrid between past and future. Comprised of members from classic Texas speed/death metal bands like Rotting Corpse, Gammacide and Rigor Mortis, Warbeast presents a modernized version of the speed metal classics of the 1980s with faster tempo changes, more abrupt riffing and more chaotic transitions.
Frontman Bruce Corbitt is the guy everyone wanted to emulate back in 1989. While other bands were lumping their way through yet another tedious song about social justice and how you shouldn't take drugs, Bruce tore up the stage casually singing about murder, occultism and terror: With five easy slices, you're in six lovely pieces / Bodily dismemberment as passion increases.
In his current role with Warbeast, he's revitalizing a new scene and will do it live in front of you at Emo's in Austin just before 9pm this Friday night. In the meantime, Bruce gives us the rundown on Warbeast and how they came to play a horror movie and metal music festival.
Warbeast released a new album this year, entitled Destroy, which seems to have turned up the volume. What's different on Destroy versus the first album?
It started with the writing… Scott Shelby wrote the majority of the music and I wrote the majority of the lyrics. Once he had the music part of the songs down with the rest of the musicians in the band… I would add the lyrics later. For some songs he would have a general idea for what he had in mind for what the lyrics should be about. For the other songs, I would get a feel for what the music reminded me of before I came up with the subject to write about. So we had a good system going when we were preparing these songs to record in the studio. Plus we already knew what it was like to work with Philip Anselmo as our Producer. So the chemistry was even better when we recorded this album.
On the first album we were still a relatively new band coming up with our first originals. Some of those songs came from material that was written before Warbeast. I guess what I'm saying is that by the time we started writing for Destroy… we were more aware of what we wanted the band to sound like. I'm proud of both albums and love the fact that they're different… but they both sound like Warbeast.
How do you think Warbeast will develop in the future? Are you working on new material now?
We intend to keep progressing and improving as a band in all areas. If we can continue to top our last effort on each new album… I would be happy with that. Hopefully we can keep a busy tour schedule like we have in recent years. Yes, we've recently started the early stages of writing for a third full-length Warbeast album. So we plan to enter the studio and record it sometime in 2014.
You'll be playing the Housecore Horror Film Festival in Austin on October 24-27. What are you looking forward to with this performance?
I'm really honored and I feel very fortunate to just be part of this. This will hopefully become an annual event that fans of Horror and Metal will look forward to every year. So it's really cool to play at the inaugural HHFF! This is one of those highlights from all these years in bands that I know I will be proud of for the rest of my life.
Just the fact that there is going to be such a huge gathering or Horror and Metal fans all assembled for one big weekend will make this a special show for Warbeast. So I'm sure we will be fired up and ready to have some fun when we perform on Friday night.
I understand you have a longstanding relationship with horror films. Can you tell us a little bit about that?
It goes back to when I was a little kid. I always loved Halloween, Haunted Houses, monster movies etc. I loved TV shows like The Munsters and The Addams Family. As far as movies… at first it was the classic Universal Monsters (Frankenstein, The Wolf Man, Dracula etc) and also the Godzilla movies that I would try to catch on TV. Once I started going to see movies at the theaters… it was always the Horror Movies I wanted to see.
Then when VCRs came around in the 80s.. I was always in the Horror section when I went to rent or buy movies. Of course I started recording and collecting movies and my Horror Movie collection became immense. Then when I joined Rigor Mortis in 1986 and they already had the Horror and Gore image and theme going… I fit right in with that shit. It was cool to sing about some of our favorite Horror movies. Even on the upcoming Rigor Mortis album Slaves To The Grave and also on the Warbeast album Destroy I'm still singing songs about Horror movies or stories.
Finally, for those who are new to Warbeast, what should they expect at a Warbeast show, and why should they make sure to come see Warbeast if they're at HHFF?
They should be prepared for an old-school dose of Texas Thrash Metal, a non-stop jolt of energy coming from every member of the band and an adrenaline rush that could wake up the dead. We want it to feel like Godzilla has entered the building! We want to get the crowd warmed up for Goblin and Down… so we will be ready, serious and focused to do just that…
Tags: rigor mortis, Speed Metal, warbeast