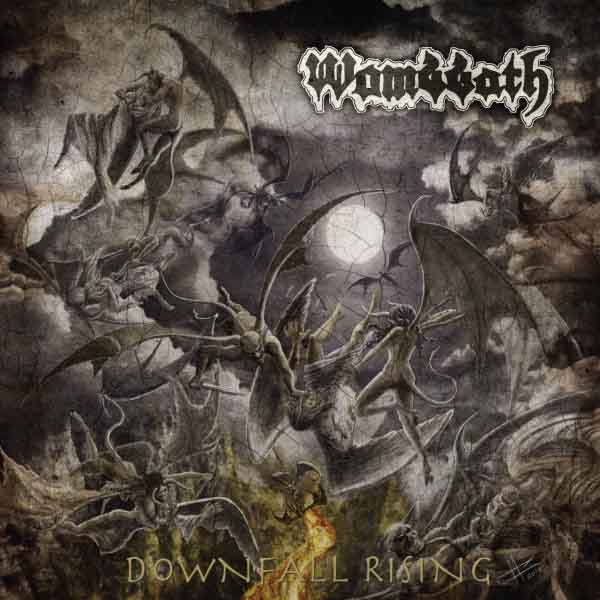 Upon reviewing a comeback album from a band that has been out of action for more than a decade (more than two, in this case) we are given two options. The first is to approach the album in the context of the band's past work. This is the traditional approach in metal, where bands with more experience are expected to improve while younger bands are judged with more leniency . The second is to see the album as a separate work and judge it by its own merits and the apparent goals it sets for itself from the musical point of view (avoiding ridiculous and absurd logical objections of the "and what if it was there intention to make a piece of shit of an album?" sort). Either way, Downfall Rising is as nonsensical as its cliche and meaningless title.
Generic beyond recognition, the effacing of the band's voice comes as no surprise as the paper-thin music that Wombbath made as a younger band went little further beyond sticking genre cliches one after another without taking the music anywhere at all. It was a parade of Swedeath groove riffs that sound and feel good as background but that fail under closer inspection. The new album sees the band taking on some aspects from the so-called symphonic metal  (best referred to as metal-like pop) to fill in interludes or intros and a certain variety of retro-isms of the current nostalgia death metal scene. While Internal Caustic Torments was an empty husk made from death metal cliches at all levels (riff style, guitar tone, trademark vocals) that made it the perfect superficial representation of death metal without a voice of its own and without having any actual logical content, Downfall Rising represents an even wider collection of cliches of the new retro death metal scene.
At least the band is consistent in the type of mediocrity that constitutes their music. Sounding not only generic, derivative and content-less but far more tired than in their earlier fiasco, Wombbath come back riding the wave of come-back albums by "classic" bands that extends to any band from back in the day that was part of a scene and that is made possible by the ability of internet marketing and sales to close in the long tail in the distribution of fans of particular kinds of music. Rather than wasting any of your time in a collection of cliches being paraded without any purpose, I suggest spending some time watching adorable Wombat videos.
Tags: 2015, cute animals, death metal, Downfall Rising, fail, Wombat, wombbath