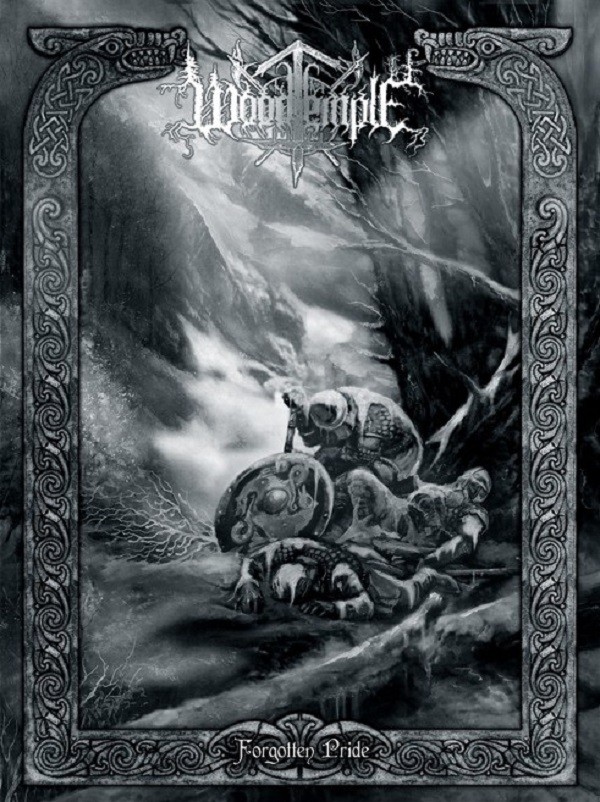 Beginning its life as a band that clearly derived most of its influence from middle period Graveland, Woodtemple expanded with the addition of Graveland songwriter Rob Darken and now returns with short album clocking in at just over a half an hour. The fully-developed Woodtemple sound features its original form of flowing melodies and expansive song construction which resembles the mental effect of riding a galloping horse through a forested landscape, but pushes further on this release to make these patterns evocative of epic events and as a result shaping the wandering to tell a story. The general sound approximates the darker and more aggressive approach of Following the Voice of Blood-era Graveland, but with the distinct gentler and yet more varied sensibility that has been the hallmark of Woodtemple, in addition to recent Lord Wind-style instrumentation.
Hidden in Eternal Shadow adds a new range of thematic voices such that pleasant uplifting motifs exist in conflict with darker ones, and within the zone of darker sounds, melodies span the gamut from melancholic to outright evil, even capturing an exuberant and life-affirming sound at times (merely for contrast, of course — this is not peeking into the artist's soul. Honest.). The new approach captures more of the "forest wandering" atmosphere of the earlier works by adding context and greater internal change, allowing these songs to become atmospheric adventures with the epic feel that black metal manifested against the grain. More Wagnerian in this sense, the longer songs use that space to let these themes play out, mixing guitars with female vocals and keyboards to create a soundtrack effect of immersive sound. As usual, a dominant pair of riffs occupy most of the space to achieve a dominant mood, but the variations introduce detours which return to the main theme with a renewed sense of its solidity having been tested in conflict. The malevolent and rancid vocals of early Graveland or Gorgoroth expand to fill each phrase, avoiding emphasis on the beat for a counterpoint to the rhythm of the guitars, creating a sense of an broader and more elemental narrative guiding the more temporal actions of guitars and bass. The heavy folk atmosphere and epic framing of a soundtrack creates a world in which the listener is both lost and oriented.
Perhaps one of the few black metal bands worth paying attention to in the last decade, Woodtemple increases its power with Hidden in Eternal Shadows. What was once less focused circular landscape riffing now becomes a theater of collision between oppositional forces as a wanderer tries to find root in an alien land, and the gentle slopes and chasms of past songs become broader and yet more nuanced as if showing us the transition between valleys of a fully-laden warrior. It captures the escapism of black metal while applying it to a sense of a desired aesthetic, compelling us to return to this ruined world and see its possibilities. While this album shows us only a short taste at a little over a half-hour, it restores the original — actual — black metal sound of warlike music with a contemplative, melancholic soul.
Tags: Black Metal, graveland, woodtemple