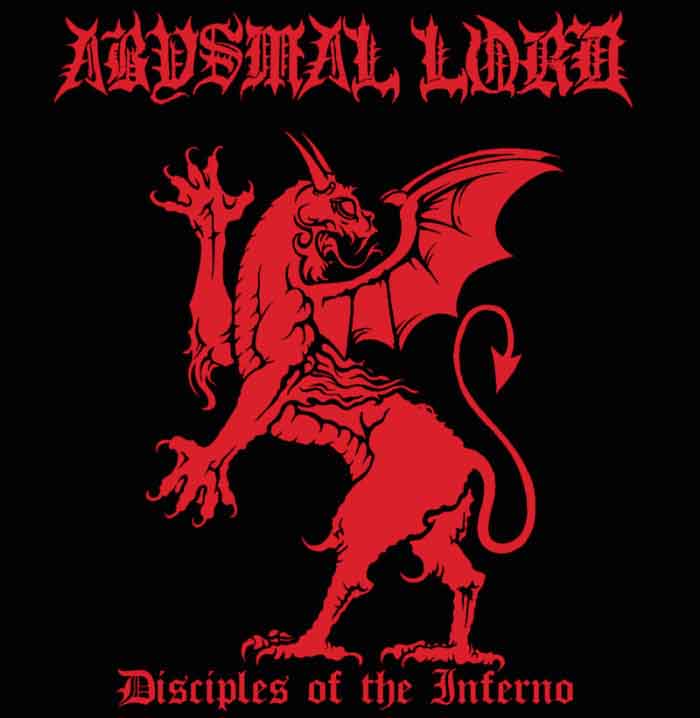 Article by David Rosales
Yet another sludgy, heavy-treading death metal album with Sarcofago pretensions arrives at our shores. All the production candy is present, from the attenuated, dry fog that takes away the annoying reflection of shiny exteriors to the thick and bassy tone of the instruments that gives them presence but is not impertinent. Abysmal Lord Disciples of the Inferno fills all of the requirements for your average death metal fan's enjoyment and seal of approval. But it is ultimately irrelevant, and moreover, it is definitely an unnecessary accessory.
Listening to Disciples of the Inferno reminded me of listening to one of those post-Haydn Classical or Romantic-era composers who were certainly above average, but never truly found their own voice and rather latched on to the conventions of the time. You've probably heard one of these many Mozart clones (I'm talking to you, Kuhlau) who produced decent works of great technical competency that never rose above their models in artistic merit. This is the sort of album that is good enough an imitation that you want to go listen to classical albums that influenced the origins of their style.
Abysmal Lord Disciples of the Inferno proves an entertaining listen during a couple of tracks, although as I said, it mostly just urges one to go listen to classic giants of the genre. Furthermore, past the first of the album, the music is decidedly samey and rehashed riffs along with uninspired progressions mark the early death of the music.
Tags: 2015, abysmal lord, boring, death metal, disciples of the inferno