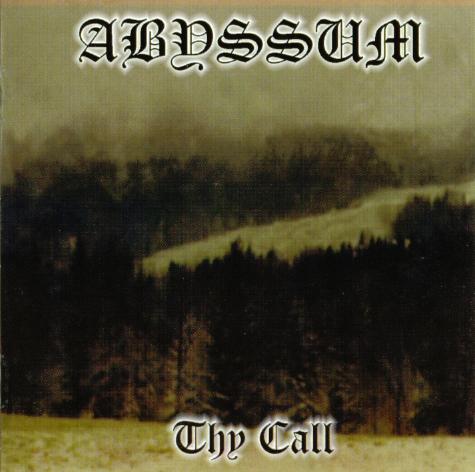 Article by David Rosales. This review is David's Spanish translation of his earlier review of the album.
Cuando decimos que el metal llegó a su cúspide en 1994, después de una breve época dorada, y que lo que siguió no fue sino un declive clarísimo, esto no significa que no hubo absolutamente nada bueno. Por definición, lo que le sigue a una cúspide es un declive – aunque la decadencia sólo sea aparente debido a la perspectiva. Aún más importante es aclarar que cuando hablamos de esta manera, nos estamos refiriendo a un promedio a través del género, y no señalando a nadie específicamente. Después de todo, tenemos un Summoning publicando su clásico de clásicos en 1996 y más música grandiosa a finales del siglo. En Centroamérica, siempre un paso (o más bien diez o treinta pasos) atrás del resto del mundo como resultado de procesos históricos que podemos identificar, lo poco que su reducida población, recursos y cultura permitieron desarrollar al metal local, floreció entre los últimos cinco años del siglo pasado.
La proporción de completa bazofia a lo que consideraríamos música auténtica es, en mi experiencia, realmente alarmante. Tratar de encontrar algo que no sólo sea auténtico sino que también tenga un nivel de calidad sobresaliente es una labor todavía más extenuante, bordeando en lo imposible. Dadas estas estadísticas desesperanzadoras, no es de sorprenderse que se pueda contar con los dedos de la mano el número de álbumes duraderos provenientes de Centroamérica. Curiosamente, la cuenta exacta de bandas que merezcan algo de atención, cuando organizadas por país, no parece variar con respecto al total. Esto parecería ir en contra del sentido común ya que cualquiera podría esperar que si la probabilidad de que un proyecto prometedor aparezca esté dentro de cierto rango fijo, una cantidad mayor de bandas en total debería asimismo indicar un incremento en la cantidad de música de calidad. Sin embargo, las cifras de Guatemala, Honduras y El Salvador, no parecen ser muy distintas. Aun la escena colosal con recursos muchas veces superiores de Costa Rica parece no poder producir una mayor cantidad de proyectos musicales en el metal, o en la música underground en general. Hasta donde conoce el autor, las únicas dos bandas centroamericanas que merecen ser mencionadas para la posteridad, y no solamente por nostalgia, son los death metaleros Horgkomostropus, de Honduras, y el proyecto black metal Abyssum, de Guatemala.
Constituido entonces por Diatharma Thoron en la percusión y Rex Ebvleb, al mando de las guitarras, voces, sintetizadores y demás, Abyssum publicó dos demos entre 1995 y 1996 que llevaron finalmente a un álbum completo en 1998 bajo el nombre de Thy Call. Aquí, la banda se muestra una fiel seguidora del black metal maduro, que tiene una inclinación fuerte hacia lo que se denomina como ambient, mas no deja atrás sus raíces del metal negro. No se percibe ni un trazo de rock'n roll. De hecho, una vibra oscura muy familiar, característica del ambient tipo "dungeon" o "medieval", emana de su instrumentación y coloración. En esto constituye la música purificada cuando es llevada a los límites del black metal, pero Abyssum se detiene antes de llegar al punto de dejar el metal, y voluntariamente permanece dentro del círculo de invocación para poder continuar el ritual eterno.
Como si entrásemos en los dominios del bosque de un antiguo dios de la montaña, el comienzo del álbum nos sitúa entre dos voces de teclados y un par de notas en el piano que llaman nuestra atención a la vibrante simbiosis de vidas entrelazadas, cada una de ellas insignificantes pero, en conjunto, tan majestuosas e infundidas de significado. Luego una simple guitarra acústica nos trae al oído acordes punteados, arpegios que reflejan las armonías de los sintetizadores y melodías en ciclos seguidas de episodios nacidos a través de ellas. Algunos de estos pasajes sirven como puntos de partida para caminos que atraviesan este yermo. No son completos por propia cuenta pero sin ellos la magia de los distintos momentos que les siguen carecería de significación ya que harían falta toda clase de puntos de referencia.
El perfecto balance de mundos paralelos, uno físico, el otro energético y espiritual, se encuentra retratado en Thy Call. La música es llevada al extremo de lo que un metal respetable permitiría en cuanto a repetición, mientras el contenido se mantiene relevante no sólo con respecto al contexto de cada momento y la obra en su totalidad, pero también por medio de una armonía activa, aunque minimalista, que siempre está presente y es guiada por la melodía principal. Ésta es la vida misma manifiesta en la MUSICA indivisible. Su naturaleza no es rítmica, tampoco se basa en el sostener de una sola armonía, y definitivamente no es equivalente a la indulgencia del pop sobre una línea melódica que no tiene más mérito. No es ninguna de estas cosas, mas es todas. La negación de una de ellas implicaría la destrucción inminente del todo. Este es el balance perfecto, el balance de los tres dentro en una sagrada, indivisible, aunque discernible, trinidad de elementos que no podrían ser uno sin los demás.
Penetrando este mundo de ensueño al que se llega atravesando un portal erigido por ésta entidad musical, descubrimos escenas repletas de exuberante vegetación entre pigmentos otoñales que desbordan con melancolía. Aquí y allá vemos animales correr en una dirección u otra – una guitarra eléctrica acompañada de percusión irrumpe la calma, declamando en alaridos que resquebrajan el correr del viento silbante. Adentrándonos en el recorrido, finalmente nos encontramos de frente con el señor reinante: una criatura antigua y poderosa, coronada con hoja, musgo y flor. Gritos punzantes sobrevuelan entre pasajes de presurosas melodías que se complementan con arreglos de percusión inspirados en el estilo magistral de Emperor.
Esta atmósfera envuelve a quien se descubre frente a su presencia, estremeciéndolo bajo su mirar. Después de un instante cuando la muerte parece inevitable y vistas del infinito innombrable se develan, la calma vuelve, dejando pasar toda noción de peligro fuera del recuerdo. Asimismo se retira el anfitrión, penetrando la densa flora circundante. De guitarras eléctricas a guitarras acústicas, de patrones espesos de percusión a silencio, de armonías plenas al silbido del viento, todos llegan a restaurar la paz en singular impermanencia, creando una existencia ininterrumpida mientras mueren y reencarnan.
Tags: Abyssum, Black Metal, dark ambient, Español, Guatemala, review, Thy Call, translation