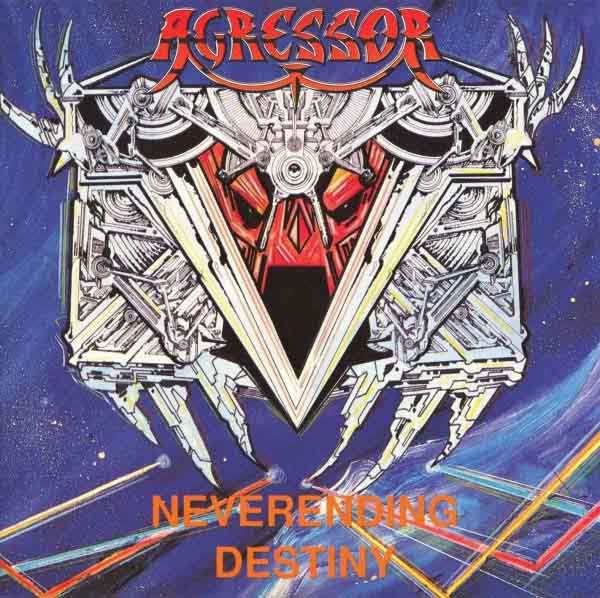 Straddling the no-mans-land between past and present, Agressor's full-length debut offers a high-octane mixture of late-period speed metal and death metal technique, coupled with pulpy occult/sci-fi lyrics in the vein of Nocturnus, Voivod and Obliveon.
The guitarwork of guitarist/vocalist and main composer Alex Colin-Tocquaine is clearly the focal point of Neverending Destiny. Emphasizing speed is hardly a novelty, but the riffcraft — surprisingly varied for the genre — and mastery of texture and technique remains invigorating throughout the album. References to the ever-expanding book of metal riffology are extensive, with galloping 8th/16th note groupings and speed metal triplets lining up next to death metal-tinged single note picking as well as more unorthodox Voivod-ian chordings.
Rapid, open string pedal point riffs racing off towards vaguely melodic cadences betrays a grounding in the Teutonic school of underground metal, but gains a decidedly frenzied and determined character thanks to a higher degree of control in violent intensity. Songs lift off as stretches of choppy speed metal lead into liquid, tremolo-picked melodic sequences, effectively enacting dramatic change through manipulation of texture. Vocals and drums remain de-emphasized, but are no less important in their complementary roles. The former works as a hoarse counterpoint while the latter provides a checkered map in which the guitars can reign free, forming tangents and crossing lines at will.
At its best, this is music overflowing with propulsive energy. Unfortunately, most of it is lost due to lack of direction in the songwriting department. Riffs work reasonably well together, but ultimately lose their impetus inside looping verse/chorus-structures. As a result, much of the care gone into making songs distinguishable from each other is nullified, making Neverending Destiny a more monotonous experience than its promising elements would indicate.
While similar in style to their countrymen in Massacra, Agressor's reluctance to expand their song-structures marks them as a thing of the past, leaving the listener with an impression of unfulfilled potential. As such, listening to Neverending Destiny is like watching a well-adapted predator hunting imagined prey inside a hamster wheel.
Tags: 1990, agressor, death metal, france, French Death Metal, melodic speed metal, neverending destiny, progressive metal, review, Speed Metal, speed/death metal