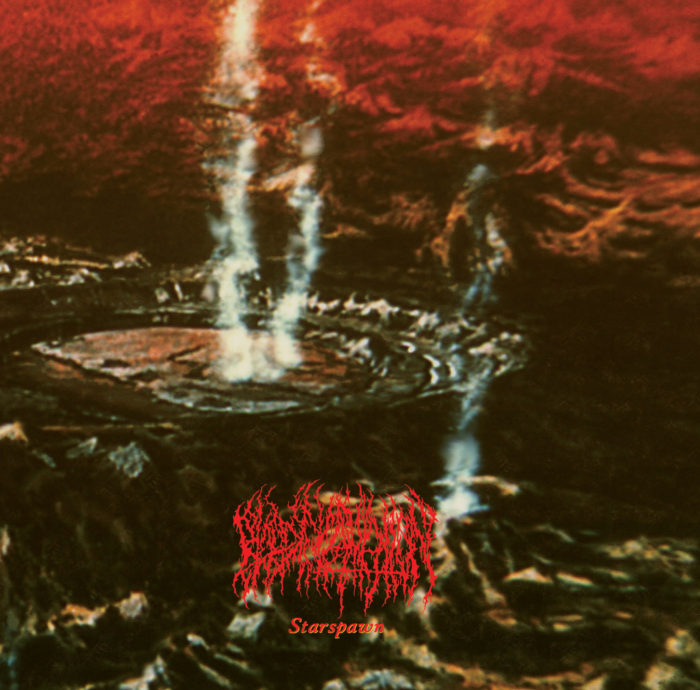 Article by Lance Viggiano.
Blood Incantation give birth to a star which rapidly dissipates its vibrant material into a pale dwarf by exhausting concise songwriting early in its lifecycle to leave only the raw core of extended jam sessions which cause the dead to be grateful for their passing. Each proper song begins with a clear objective but rapidly loses focus through descents into ill-fitting random pastiches of mosh riffs, doom, beer horn ready chug or atmospheric atonal ambience. By and large, the latter half of these songs are used to adroitly drift in the vacuum of purpose wherein it makes its residence. Unlike Altars of Madness which similarly abuses the listener by stretching the limits of tolerance towards virtuosity, this group lacks the voracious songwriting that is necessary to avoid wandering by achieving focus to force the captive into loving punishing bouts of self-indulgence.
Individual phrases are well executed and of notable quality especially in comparison to the contemporary landscape. Irrespective of context however, nothing approaches a mythic significance to afford a legendary status. Divaricating this work through a sense of brevity is the best possible path for Blood Incantation as there is no shortage of ephemeral satisfaction in its parts; it is the whole in which they meander that is beyond redemption.
Melodies are of moderate length, dissonant character and often harmoniously interwoven despite the tendency to fray at their edges. The Starspawn occasionally summon the unrepentant spirits of Inquisition to torture the living with sinful vapidity. It is precisely at this juncture in the opening cut where the legato-narrative abandons its tale completely by sublimating purpose into populism for the remainder. The album's coda shifts both guitar and vocal phrasing stylistically into an outright Timeghoul plagiarism that was only hinted at prior; further dimming the birthed luminous vapor.
Despite being delivered with invigorated incandescence, Blood Incantation fail reduce entropy for the lifeless planetoids orbiting their begotten dancer. It therefore serves as little more than a dismal lamp casting a faint flame upon opaque engrams of a once vital culture in its dusk. A stillborn reminder that closed system incest simply does not produce viable offspring and that genetic rejuvenation must often come from an outside source once diminishing returns completes the degradation of a particular perspective on the world.
Tags: 2016, beer metal, blood incantation, dark descent, dark descent records, death metal, modern metal, review, Starspawn, techdeaf, timeghoul, wanking