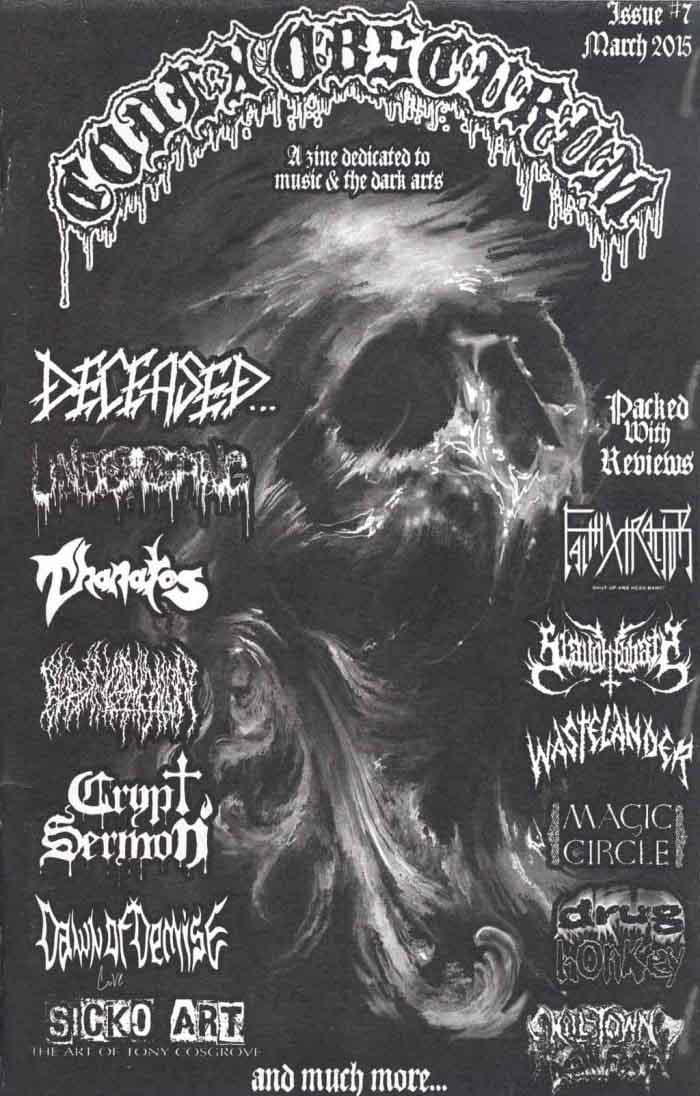 Having watched this zine grow from humble origins to the reliable source of underground metal feature stories that it is today, the metalheads who comprise the underground — including death metal, black metal, grindcore, and some speed metal and doom metal — now expect high-quality on-point content from this zine, and Issue Seven delivers with style. Now possessing the journalistic weight and audience to command high-profile bands, Codex Obscurum returns with wide-ranging interviews, reviews, features and editorials with adventurous literary fiction as well.
Interviews have always pushed this zine above the rest because of their conversational nature but tendency to explore the thinking behind the musical decisions made by the band, with little attention spent on the surface fluff, but some questions that bring out the personalities of the musicians and explain their connection to the art. In this issue, the biggest name in interviews is Deceased, but perhaps the most powerful interview belongs to Thanatos. Covering both Hail of Bullets and Thanatos, this interview with Stephan Gebedi is as detailed and congenial as death metal interviews get, and covers a lot of history. The Deceased interview will strike most as idiosyncratic because it covers much of King Fowley personally and recent news, with less emphasis on background, but this reflects the general abundance of Deceased interviews on the early days. This updates us on the status of the band including information new to most sources. Other interviews with Wastelander, Drug Honkey, FaithXTractor, Crypt Sermon, Magic Circle, Dawn of Demise, Untergang, Slaughtbath and Blood Incantation follow similar patterns of compiling biographical details and consulting on musical intent, with the Untergang and Crypt Sermon being most compelling. All of these are well-executed and constitute the backbone of this zine.
Issue Seven contains a number of features, one of which takes the form of an interview. Artist Tony Cosgrove gives his points of view in a story which interweaves his images with his words, creating the sensation of being a museum exhibit with slightly longer detail cards. A feature on asymmetrical board games offers a glimpse into a world that overlaps with metal but is too nerdly for the mainstream tuffguy websites to cover. A lengthy write-up of the Kill-Town death fest in Denmark follows, which captures much of the atmosphere without excessive detail, but also skimps on a few vital points and may be the least powerful part of the zine. Then again, fest writeups are nearly impossible because everyone is tired and/or drunk (and stoned) so what remains are hazy recollections and the ability to look through the heaps of scored merch. Possibly my favorite features lurks at the rear of the zine, which is a malevolent and tongue-in-cheek editorial about the nature of battle jackets and how they should be worn. This piece reminds me of the 1980s text-files that hackers used to pass around: it has an off-the-cuff feel to the writing, but the thinking seems refined over time, which creates an interesting casual intensity. One intriguing feature, to my knowledge unique among current zines, comes in the form of a short story. Like a condensed zombie sci-fi horror movie, "Evil Seed" (named for the Morbid Angel tune?) efficiently whips through a haunting mystery of an experience with a powerful organic metaphor. This story not only adds to the zine, but its placement dead in the middle creates a break like that when flipping over a vinyl album to hear side two.
Toward the rear of the zine festers another important section: reviews. For metalheads without much time to wade through the mountains of spurious and often spiteful opinions in online comments, or the completely idiotic sales jobs that mainstream zines and web sites put out in place of reviews, where every release is the greatest ever and will tear your head off or make you look intellectual to the girlies, zine reviews offer peace of mind in purchasing by offering better than even chances that a given release will be a match. This occurs both through qualitative assessment, and quantitative description, both of which are featured here. These take a conversational tone but know when to drop the one or two lines of most vital description, and then an assessment, separating observations from judgments enough that the reader can shop by the relative distance between the taste of the reviewer and their own. In this issue, the selection of reviews is a lot more strategic and covers all of the vital ground for what was released during the press period of this issue.
As Codex Obscurum has grown, so has its proficiency in layout. This is the most readable issue yet, generally sticking a band logo at the start of an interview and then being sparse with other images and keeping the text high-contrast usually of a light grey on black variety. This format works well and the use of distinctly shaped fonts also keeps this from falling into the trap of the illegible muddy blur of a xerox disaster that many zines are. Reviews are black text on grey background for added readability, and whether from rush or deliberation, the black-on-white table of contents is if nothing else clear as a bell. Writing standards have inched upward, too, with tightly edited pieces and almost no typos and spelling errors. All of the above make it easy to pick up this zine, which at half-page size can be handily carried anywhere you would take a paperback, and to relax and absorb the content. It would not be surprising to see someone whip this out at a university library, transhumanist rally or on the international space station, because it has that kind of density of information and yet casual enjoyment factor. It is good to see this zine getting the recognition it deserves and its growth both in size and technique for an intensely professional and yet familiar metal reading experience.
Tags: Black Metal, codex obscurum, death metal, Doom Metal, Grindcore, Issue Seven, Speed Metal