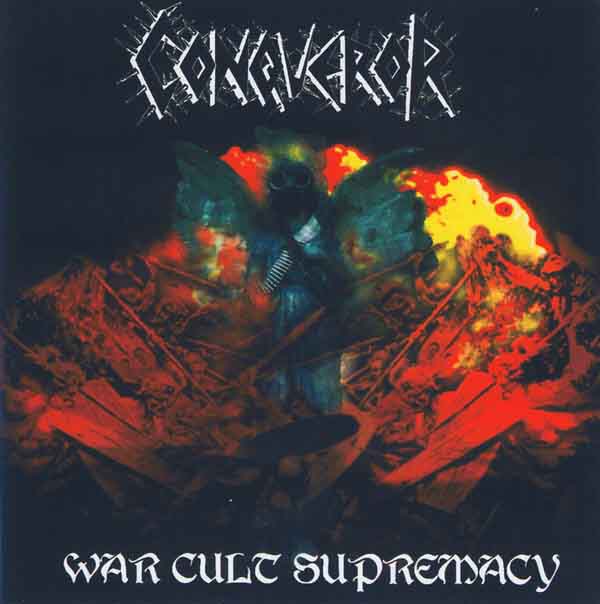 Conqueror wanted to be a part of the "scene" but did not have musical ideas. The band discovered that the muddied sound of early Beherit and Blasphemy circa Fallen Angel of Doom could be used to obfuscate their dearth of ideas. Furthermore the hostility between the Norwegian scene and the rest of black metal could be amplified under false pretenses while not offering any truly satisfying alternative themselves. Basically, point to candy assed pop drivel like Dark Funeral but go to the other end of the spectrum entirely with a paper thin wall of television white noise with a drunken chipmunk howling nonsense. Conqueror's "music" is structured which ironically stands contra to the concept of all out war. A little anarchy would at the very least allow the essence of battle to bubble up from the pot. Instead it's a tame morass of very low effort grindcore riffs and mostly incomprehensible low E-string noodling. The best that can be said about Conqueror is that J. Reed has an identifiable sound.
War Cult Supremacy was "composed" (to use the word in the common rather than literal sense) based off of the idea that a million monkeys banging on typewriters will, given enough time, eventually produce the entire works of Shakespeare. However these guys don't give the music nearly enough time (if that is even possible) so the "throw shit at the wall and see what sticks" just results in a surface covered with stinking brown stains. War Cult Supremacy was obviously written by and for people whose sense of pattern recognition is so critically underdeveloped that melodic continuity is alien concept to them, as a typewriter is to a cow.
Conqueror cultivate an ill-fitting mood. War Cult Supremacy doesn't sound chaotic, dangerous, or violent, which is what WAR is so it fails hard at being WAR metal. This is coma ward metal. In terms of immediate tangible experience, does a woosh of static accented by powerchord-lite sound threatening to anyone? Does white noise sound dangerous? Does changing the pitch of that white noise do anything? No, no, no. Let's be honest, those qualities are abstracted out of extra musical content. For example, blast beats are "supposed" to be harsh and warlike But in this context they are actually metronomic and lulling. When I zone out listening to it, the repetitive bounciness of War Cult Supremacy reminds me of a humming transformer on a malfunctioning utility pole.
Conqueror occasionally use samples to differentiate War Cult Supremacy's compositions in the style of a cheesy hardcore punk album. Unlike a beatdown band, these samples are wimpy: Conqueror copy-pasted Wojciech Kilar's score from the Gary Oldman Dracula with Winona Ryder where Dracula cries like thirteen year old girl to add some bullshit romance sub-plot for goth appeal. Choosing samples from Francis Ford Coppola's emasculated adaptation of Dracula instead of Christopher Lee identified Conqueror as Hot Topic "black metal", a more hardcore-rooted Cradle of Filth. Moreover, this bitch-made move clarified their targeted audience: mall punks, noise rockers, and idiots who would buy the album solely for its superficial shitty production aesthetics.
What motivated Conqueror to attempt to join the black metal scene though and why were they accepted by the Full Moon and Nuclear War Now crowd? Easier to produce while drugged out? A drunken experience with a machine gun? Conqueror were just incompetent and couldn't play anything more complex than randomly chromatic, bouncy punk riffs. In a shocking display of intelligence, Conqueror had the self-awareness to realize this, tricking the musically ignorant into thinking that Conqueror were playing this crap intentionally.
Conqueror cargo cult copied of the aesthetics of an earlier style and attemped to pass it off as the real thing. If the Transilvanian Hunger clones were fucking a corpse, Conqueror's chosen paraphilias were car exhaust pipes and the umbrella holes in the middle of patio tables as Conqueror didn't even actually play metal. That the mainstream metal media bought their ruse shows that they couldn't and still can't recognize a wooden runway built by men in loincloths as different from an actual airport staffed with air traffic controllers when it comes to the genre; The media and "scene" refuse to call spades spades or even recognize them as such. The rewards are even the same as a cargo cult: materiel from tourists visiting the wooden runway and social acceptance among the tribe; materiel being beer, drugs, and groupies instead of industrially-manufactured goods.
Tags: 1999, canada, conqueror, drone, Grindcore, Hardcore Punk, hipster bullshit, noise, nuclear war now! productions, scenesters, War Cult Supremacy, War Metal