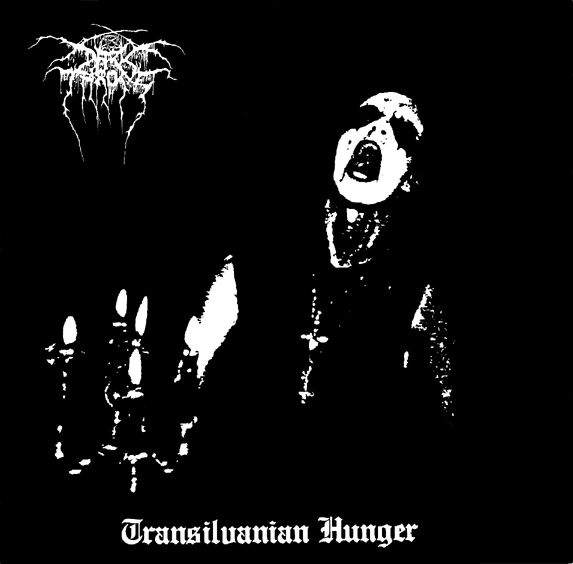 Article by Lance Viggiano, read the more positive DLA review here

1993's Under a Funeral Moon displays Darkthrone at their peak of creativity with a depth of vision that is initially challenging and abrasive yet contains a high degree of musically which constructs an experience out of relatively simple components and nuance whose reward is inexhaustible. Many place the decline of the band somewhere between 1995's Panzerfaust and its follow up Total Death; in truth, Darkthrone as a creative force reached its nadir on 1994's Transilvanian Hunger.
Unlike its predecessor, this record lacks in subtly and nuance. Gone is the inventive call and response of "To Walk the Infernal Fields". The listener is mistreated by being deprived of the atonal, uncomfortable but highly inventive melody of "Natassja in Eternal Sleep". Within the first minute, one will have gotten the gist of each track as the songs remain in a static pulse of two or ideas with a third idea serving as a bridge back to the initial thoughts, an interjection or an outro. Any relationship to an underlying narrative is tenuous to the charitable and absent to the honest. This is not a call for novelty in music as over time nothing remains novel; rather, it reveals a lack of dynamic character which offers no reward in a full listening of any track here; especially after the initial novelty fades with repeated listening.
As a piece of minimalism, this record fails abjectly. What is found in the successful minimalism of Eno, Reich – or perhaps Kraftwerk in moments – is the layering of simple ideas composed for multiple instruments in which absolute simplicity is woven together to create evocative if not complex art. Darkthrone instead chose to compose only for the guitar. The bass follows root notes of the guitar in a paltry attempt to give body while the drums meander near ceaselessly on a blastbeat which is only occasionally broken by an uninspired fill or a canned metal pattern. Their inclusion is questionable and unworthy of discussion or serious consideration. Their merit is valuable only to a critic as a display of the artists' lack of confidence in leaving behind genre tropes to achieve a full realization.
Where the album finds success is by pandering to the overly sentimental via – admittedly – effective melodies and well executed aesthetics. Neither excuse the sheer laziness of construction nor the complete dearth of rhythmic variance and supportive content to fill out the body of the music. Instead what is presented is weightless and immediate music whose significance can only rely on memory of time and place; a sense of nostalgia for the first experience. It is thus difficult to discuss the emotional qualities of this music due to the near loss of artistry on part of its creator(s) which robs the record of any vitality and spirit. The music is heartfelt and bittersweet – with varying degrees of success – but ultimately it exists, at best, as audible candy for the melancholic.
Transilvanian Hunger's inability to grow with the listener over time and its misapplication of minimalism, despite containing a strong melodic component, places the record just a slight cut above the bargain bin. 2/10
Tags: 1994, Black Metal, counter-review, darkthrone, fenriz, nocturno culto, Norwegian Black Metal, Transilvanian Hunger