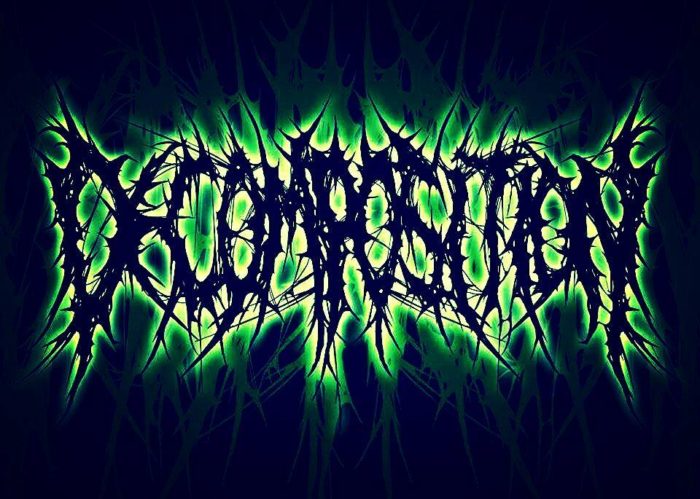 One band I was really super impressed with live was Decomposition. I got to open for them at On The Y club in Sacramento about five years ago with a death metal band I was in called Condemned to Live. That's a key underground place to play up there.
Decomposition is promising new material on the Decomposition facebook page.
I am looking forward to hearing their new songs. Their music is really solid. When they played live their tone was really brutal, and they played exceptionally tight. They had a very deep distorted Mesa Boogie type sound. Extremely tight drumming. People are probably thinking they are cliché. If they are cliché, then they are cliché in all the right ways. They have an awesome logo and its a cool band-name even if it's not that far out. It reminds me of an early Obituary song or something basically, and I think that's a good thing. This is just a band that basically kicks ass live, and does it pretty darn well in the studio too.
There's just three songs on the Decomposition Reverbnation page. So let's take a look at each:
"Regurgitation of Stillborn Flesh": I really dig how this captures the classic Cannibal Corpse sound of Butchered at Birth and The Bleeding. There's a nice amount of variety to the riffs. And the guitars and drums are matched with tight rhythm playing. This stuff is mixed really great too.

"Organ Harvest": Burly sounding vocals make the beginning of this song fun to listen too. The placement and rhythm of the vocals adds some power and drive. Followed by a nice old school American blast beat, which I don't hear as often these days (and is nice in a limited dose). Some nice technical phrases in short bursts on guitar demonstrate some advanced skills.

"Averse Lucidity": Nice brutal start like an old Sinister tape. I am loving this as a nice mix between Sinister and Cannibal Corpse. Nice alternation between chunking, grinding, and the Bleeding-styled hammer-on riffs. Fun James Murphy styled solo. A nice sludgy chunky riff with nice double bass is on the outro.
Tags: death metal, decomposition