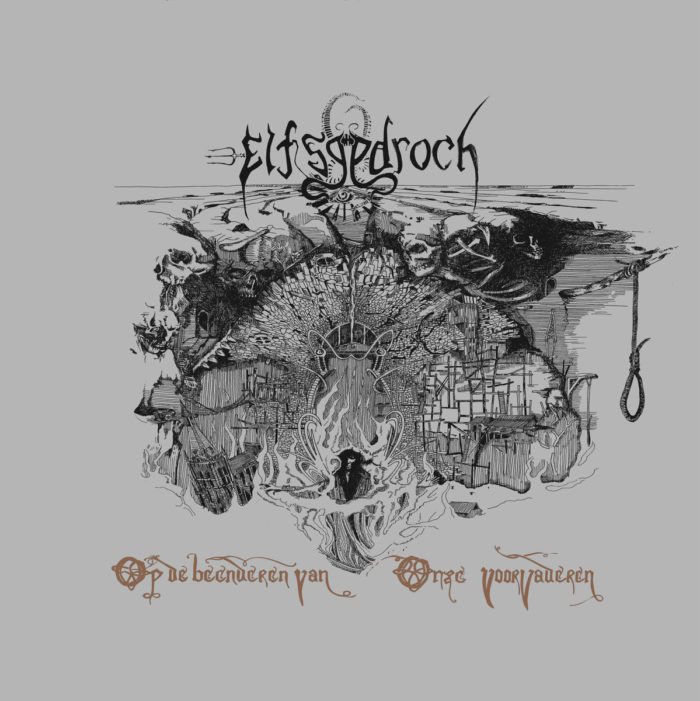 Op de beenderen van onze voorvaderen is yet another another Dutch black metal record heavily influenced by Gorgoroth and Zyklon-B like Tarnkappe. Elfsgedroch however structures riffs as hyper-extended, arpeggiated tremolo-picked chords in incredibly long to the point of droning phrases in the manner of French Canadian band Sorcier des Glaces, who are indeed the band's primary influence. Clever but occasionally too sappy harmonies similar to Master's Hammer's Bartok and folk influenced heavy metal ones on Ritual but way more annoying pervade the record.
Elfsgedroch's song structures are mainly progressive rock with extended bridges and out of place acoustic interludes similar to Metallica on Master of Puppets. The arrangement of riffs into verses, choruses, and bridges thankfully is not random as in more "technical metal" or Satyricon but the puppetry is not as effective as the South American influenced ones on Serpent Ascending's exemplary Ananku. The melodic bass lines compliment the guitars well though. Like Sorcier des Glaces' later output, the songs are occasionally overlong but when they finally arrive at whatever far away destination that the band has intended to take them to, the view is profound.
The real flaws with Op de beenderen van onze voorvaderen is that occasionally the riffing is way too close Elfsgedroch's heroes Sorcier des Glaces giving a sense of deja entendu that makes me want to listen to Snowland MMXII again instead. The other big flaw is that while competently played, Op de beenderen van onze voorvaderen is not nearly violent, aggressive, and urgent enough; it is at times almost lethargic resembling a more sedated, laid-back take on some of the more progressive Led Zeppelin compositions like "Achilles Last Stand." Op de beenderen van onze voorvaderen has no sense of the overwhelming impending doom of humanity or any gnostic sense that the natural world is evil and wants only to eliminate you. Elfsgedroch are certainly not hordes of terror here to trample and mangle listeners into oblivion. These nagging flaws place their otherwise promising, catchy, and occasionally beautiful effort beneath the best of their countrymen Kjeld, Kaeck, Tarnkappe, and of course Sammath conceptually.
Tags: 2016, Black Metal, Dutch black metal, elfsgedroch, review, the netherlands