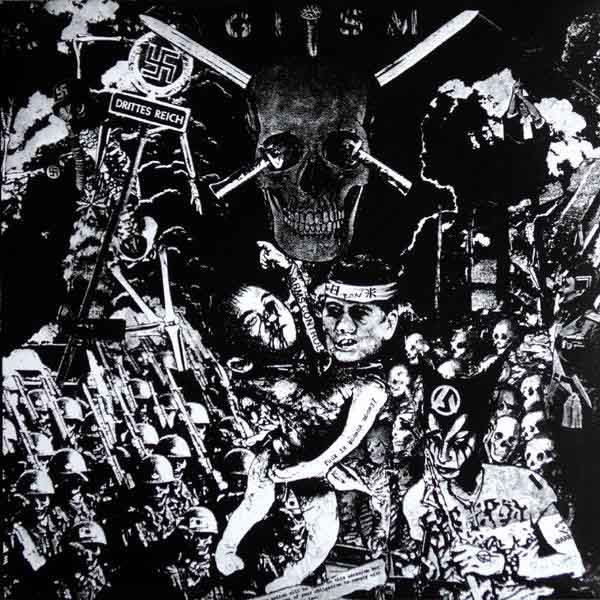 For us Westerners, many forms Japanese non-traditional music carry an awkward, or even amusing air of exotism. When it comes to metal and punk, this sense of other-ness often stems from the way European-descended musical genres get filtered through a cultural lens largely alien to its original source. Even when it comes to obvious carbon-copy tribute acts, there's always something strikingly goofy about Japanese metal/punk. Not surprisingly, this makes for a good marketing device because even if the bands suck (and to be frank, many of them do), they still sound "unique". Relevant cases in point are just too ubiquitous to deserve mentioning. Let's instead talk about something that does not suck. Like Japan's premier hardcore punk act and much-overlooked crossover pioneers G.I.S.M. While definitely goofy, G.I.S.M. succeed where most Japanese metal- and punk-acts fail by forging a highly idiosyncratic expression that not only offers something new to the table, but also manage to resonate with the deeper spirit of both punk and metal.
G.I.S.M. got together in 1981 in the city of Tokyo and made their first documented appearance on the formative Japanese hardcore punk compilation Outsider, which probably singles them out as one of the earliest proponents of the genre outside of the Western world. The band's predilection towards over-the-top dressing and stage antics, coupled with hilariously anti-social behavior – especially in the case of vocalist Shigehisa Yokoyama "aka Sakevi" – has made G.I.S.M. the subject of extensive mythologizing throughout the years. This alone would be enough to make the band a "classic" in certain circles, but rather than going down as a delightful curiosity, G.I.S.M. unleashed 1984's debut album Detestation.
With today's abundant availability of harsh, strange and unfamiliar music, we have become well-nigh too stupefied to be able to experience something that makes us drop our jaw in disbelief. Detestation still manage to evoke that precious sensation. One can only wonder how it must've sounded back in 1984. Try imagining an amalgam of early 1980s hardcore (Discharge, Sacrilege, Amebix, Poison Idea), British heavy metal (Iron Maiden, Motörhead, Venom) and proto-underground black/death (Bathory, Hellhammer, Slayer) – this is what Detestation sounds like, but without the creativity-defiling self-consciousness of our current era. Music created out of necessity.
What first hits the ear is the oddness of the actual sounds – the production, if you so wish. Extremely fuzzed-out guitars – sounding both organic and resolutely fabricated at the same time – backed up by a low-end bass rumble. Some kind of idiot savant drops in with a loosely stringed collection of syllables, before launching into what can only be described as proto-death grunts. Drums on the other hand are pushed back in the mix, laying down a steady mid-paced marching skank.
While not a D-beat band, G.I.S.M. tend to follow in the Discharge school of texturally enhanced riff-sequences and shouted vocals floating like tidal waves over relentless percussion, producing a "violent drone" interrupted by bursts of glorious heavy metal lead-guitar work. This method, drawing equally from punk and metal, creates – in liaison with production techniques – a singular case of hypnosis-inducing polarity that remains unique to Detestation. Songs evoke the violent and repulsive aspects of mankind, reveling in madness and destruction, but coupled with a triumphant vibe that make it come off as a viable, or even desired scenario.
As regards to G.I.S.M.'s supposed influence on underground metal, much remains to be investigated. But in the end, Detestation is not really a record made for deeper analysis. Doing so only dispels the mystery. Just sit back and enjoy the mayhem.
Tags: Crossover, destestation, Gism, Hardcore