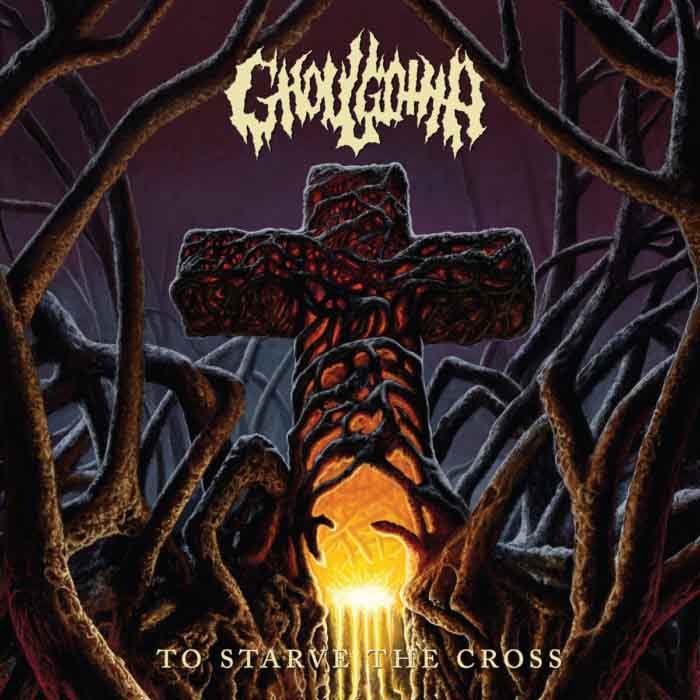 Article by Corey M.
To Starve the Cross sounds like the result of having chopped up a dozen good death metal songs and pasted the bits back together in such a way to eliminate any sense of continuity. Ghoulgotha is obviously made up of experienced and skilled players including the drummer of Ascended Dead and the guitarist from Father Befouled and Decrepitaph (among several other projects).
The style of Father Befouled is dominant here, with each song featuring several cool riffs that are ultimately disconnected and not arranged according to their dynamic potential. Furthermore, Ghoulgotha has a very detracting tendency to shoehorn in "doom" parts that only serve to increase song length, which is annoying and a major contributor to the disruption of dynamic.
On the plus side, the riffs themselves do not borrow too directly from other metal acts, though some Finnish influence shines through in the melancholic single-note melodies. At times some off-kilter semi-harmonic patterns nod toward Immolation's more harmonically experimental moments, and these bits are definitely the best when Ghoulgotha are playing at a consistently moderate pace rather than nonsensically jumping from ponderous, drawn-out chords to blazing blasts or vice-versa.
Playing original-sounding death metal riffs is a commendable feat in this day and age, especially if the band does not resort to Portal-style atonal non-melodies. If Ghoulgotha paid more attention to arrangement and narrative flow, they would be an act worthy of praise. Yet as it stands, To Starve the Cross is worth only one listen, if just for the visceral satisfaction of the extended, dirge-like melodies during the mid-paced bits.
Tags: dark descent, dark descent records, death metal, Doom Metal, Ghoulgotha, modern death metal, modern metal, review, To Starve the Cross