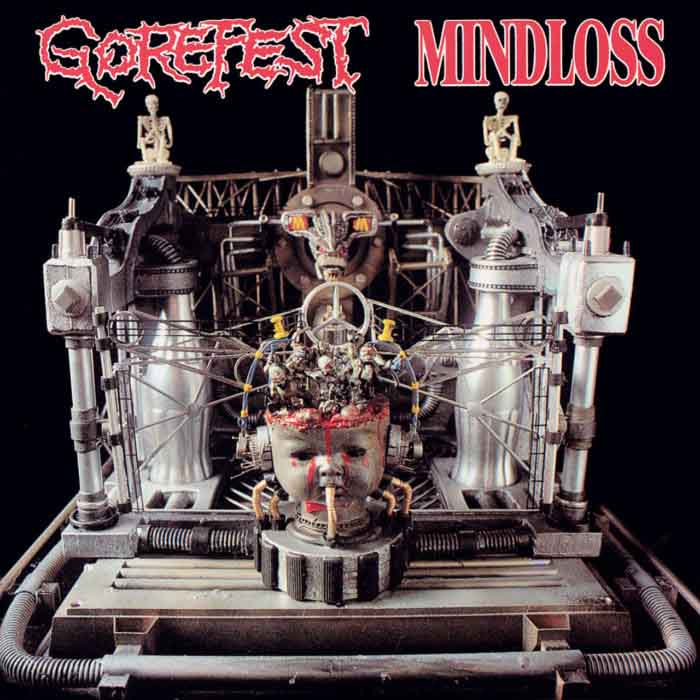 Before lapsing into embryonic death 'n' roll on their second LP False (1992), Gorefest were among the earliest Dutch proponents of solid bread-and-butter death metal with a sense of melodic contour joining the many rhythm riffs into coherent songs which reach a point of focus in their cycles, forcing re-interpretation of its parts. The early style more or less complete on their demo recordings was brought to a fuller and more refined form on the 1991 debut album Mindloss.
Much like Morgoth from neighboring Germany, early Gorefest takes a cue from late eighties primitive North American death metal, with early Death as the common denominator between those wide-ranging influences. By infusing the chromatic savagery with underlying melody, Gorefest and Morgoth re-cast their influences into what would over time prove to be a distinctively European form of death metal that used distinguishably "European" melodies, much like early Sinister and Fleshcrawl.
Although both bands share a joint point of departure, the end results diverge significantly. The German's strength lies in structural awareness and a penchant for dark, vibrant melodicism expressed through rapid streams of power chord-riffing that rides off into oblivion. On Resurrection Absurd (1989), Morgoth breaks up Schuldiner's tightly-knit riff-cycles by interspersing variations on shorter phrases with longer melodies to create crude but strangely evocative musical short-stories.
Gorefest sets off in another direction –- crafting rhythmically simple, unabashedly catchy, forceful hymns to the unstoppable forces of decay — through a merger of primitive death metal and elements derived from classic heavy metal. It is a well-documented fact that similar attempts of hybridization have repeatedly resulted in less-than-satisfying material which too often gravitates towards rock music, but it works surprisingly well here since both parts fill a purpose relevant to the whole.
On the songs of Mindloss, death metal sets up the foundation, and the heavy metal bits give it an energy that it otherwise would not have had, before returning to the melodic death metal core of this work, which then gives gravitas to the whole thing, bouncy riffs and all. In this way, it is closer to early Sentenced and Therion than later works from those bands, since the hard rock and heavy metal elements work in support of the death metal instead of absorbing them and then using the death metal techniques as a disguise for less intense music.
Mindloss takes the listener on a trip towards entropy guided by a mockingly humorous soundtrack centered around various themes of bodily and mental degradation. Procedures are kept relatively uncomplicated as anything else would probably not do justice to the subject at hand. Rudimentary death metal reminiscent of Scream Bloody Gore/Leprosy-era Death is combined with riffing, hooks, solos and harmonies borrowed mainly from Black Sabbath and the NWOBHM, producing morbid, highly energetic music resembling a straightened-out, simplified and streamlined version Autopsy with a hint of Bolt Thrower in the declarative tone of the vocals and lyrics.
In contrast to Autopsy who were masters at creating adaptable song structures to carry their obscure vision, Gorefest sticks to a basic song formula. Each composition is comprised of a handful closely related musical ideas that are cycled through before time is ripe to reach the contrasting apex-section, which is followed by a concluding part that recapitulates the main themes presented earlier. While predictable, this method provides a sense of direction: a foreboding sensation of approaching inevitable doom rather than a triumphal musical climax.
To avoid stagnation, heightened dynamics are reached through the alternation between contrasting sections at different tempos accompanied by a fixed set of techniques. Slower parts consists of melodic leads and doom-laden riffs forged out of Sabbathian interval-figures moving over trudging chord progressions and groove-filled percussion. When time is ripe, a sequence of faster sections follows where the guitarists let out an even flood of rapid-strum chords grouped around concluding hooks further amplified by the drummer. Here, heavy metal harmony meets up with death metal dissonance to build further tension. These series of contrasting yet complementary sections are highly welcomed, as they add variety to the fixed song structures without sounding arbitrary in the company of each other.
Death metal purists will probably argue against Gorefest as the blockheaded, repetitive nature of the compositions in liaison with heavy metal-derived insistence on hooks, groove, and squealing guitar solos makes the music sound deliberately retrogressive. It is no big secret that Mindloss does not hold up against the classics of genre, but it makes for an enjoyable occasional listen by grace of the high-energy levels, and morbid, ominous atmospheres accomplished through a transposition of heavy metal tropes into a death metal context.
Tags: death metal, gorefest, review, the netherlands