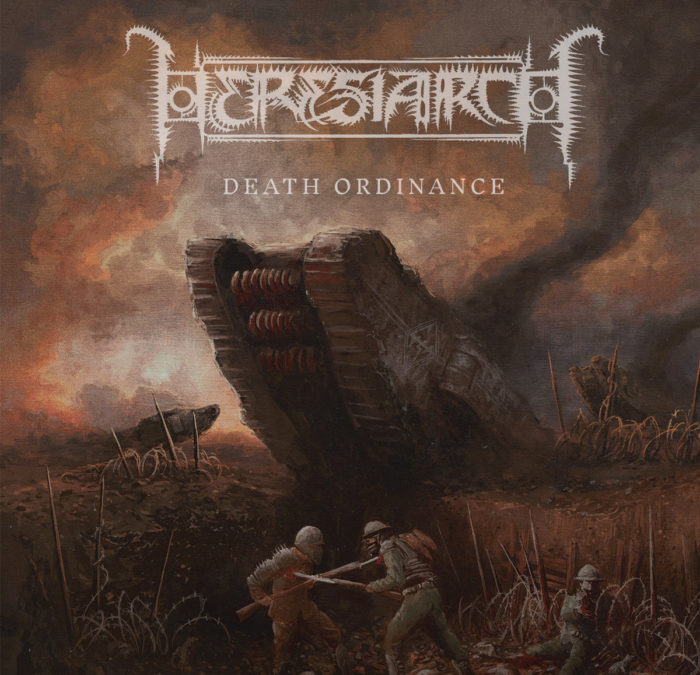 Review by Linus Douglas.
Heresiarch is the only band to have made so-called 'war metal' into something that was not just head bashing and blood splattering nonsense.
Even Blasphemy wasn't that good to begin with, anyway. Don't mention that to the fans or they'll throw a hissy fit, though. Heck, even calling Kaeck 'war metal' is a misnomer, but the description completely fits Heresiarch even though war metal is not even a proper genre in itself but only a particular way of approaching underground metal. What distinguishes it from the harsh 'war' black metal of a band like Antaeus is something deeper than the riffing technique itself, and this is the key to understanding why war metal is not a genre and that the real distinction lies, once again, between death and black metal as ways of thinking.
Heresiarch have grown and allowed the roots of death metal within that 'war metal' expression that was so extreme and monolithic on Hammer of Intransigence to expand into a more expressive whole that, if seen through the boxing mentality of the attention-impaired, may be described as including doom metal influences. To some extent these additions feel a little unnecessary when we are simply considering the musical purity under the microscope of Death Metal Underground's idiosyncratic analysis. But when we consider Death Ordinance with the mentality of a tradition that is alive, and so we ask it to be connected to a feeling of being alive and spreading a vision and a complex set of sensations even if through monolithic expression, we can afford Heresiarch a leniency that allows us as an audience to absorb those "extra" bits of slight out-genre lapses into the experience of the record.
Death Ordinance may not appear to be as relevant as the previous offering from 2011 if we only consider its innovative aspects, but as a death metal record it stands to the test of its own times. While not as ravaging, and thus convincing to Hessians, as Sammath's Godless Arrogance from back in 2014, Heresiarch brings the best death metal of its time when considered as an communicative experience that is not simply random riffing pasted together by sheer in-genre limitation (like Teitanblood), boring conventionality (like Dead Congregation), gimmicky childishness (like Garroted) or meaningless poser shit that apes image and style (like Averse Sefira). Anyway, even if Death Ordinance is forgotten within a year or two, it is still worth considering among the heaps of garbage whose names are already being thrown around as some of the most decent in recent years.
Tags: 2017, dark descent, dark descent records, Grindcore, heresiarch, new zealand, review, Thrash, thrash metal, War Metal