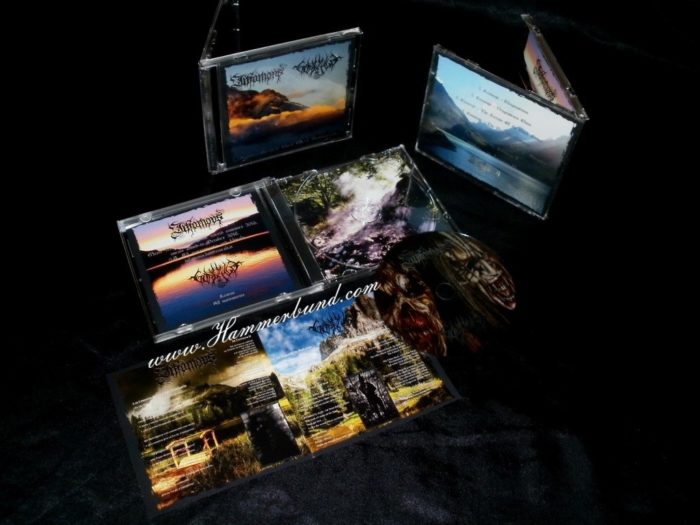 For centuries Italian engineers were valued throughout the western world for their skill in both destruction and construction. The great Imperial warlord Albrecht Wallenstein, who exhibited a keen eye for excellence, had Italian mercenaries in his army and Italian architects for his for his manors. With their relatively recent split release with German band Gorrenje, the Italian black metal band Infamous carry on this tradition of dual excellence.
As the song opens we are treated to a riff that sounds very much like the main theme from Graveland's "Thurisaz." While most modern black metal bands are content to rip off the founders of the genre and call it a day, Infamous takes this inspiration as a starting point and uses the greatness of the past to illuminate new pathways. Where early Graveland was a frenzied exploration of Nietzsche's Dionysian impulse – losing the self in the tide of battle or submerging the individual soul into the spirit of blood and soil fervour – we see as the refrain riff comes to light that Infamous is using the opening riff to contrast the Apollonian refrain that bursts forth in all of its well-ordered majesty. The drums mirror this dichotomy by trading off between frenzied blastbeats and more ordered 1-2 snare-bass tradeoffs. For the opening riff the bassline plunges drunkenly around the fretboard while during the refrain it maintains a very conscious root-note orientation. As the song progresses, the two main themes intertwine, merge, and separate as each competes for dominance within the song's structure just as all great cultures and civilizations are a result of the combination of Apollo and Dionysus. The song ends with what sounds like a ringing dominant that suggests that only continued striving, effort, discipline and vision will bring forth any hope of resolution.
This relatively simple piece by Infamous is a keen illustration of the failures so often seen in the world of metal. The pure Apollonian results in static, meaningless formalism and structuralism as one can listen to in any number of math-core bands. The pure Dionysian results in static, supine dissolution as the tranny-romancing war metal scene bears witness to. With this release Infamous further solidifies their reputation as one of the more advanced and competent modern black metal musicians.
Tags: Epic Metal, graveland, infamous, metal, review