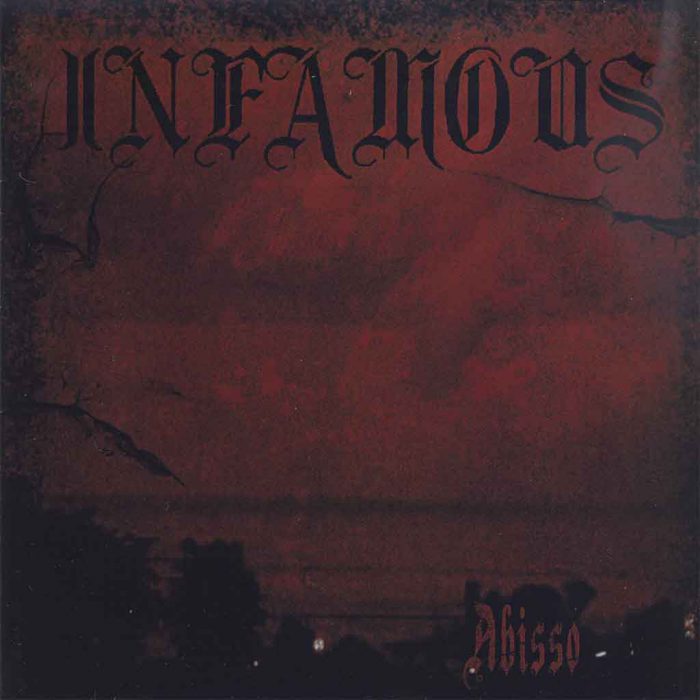 Much like Nordic pioneers Ildjarn, Infamous combines the sounds of Oi and hardcore punk with black metal, but takes an approach similar to that of the Southern European black metal scene: longer melodies and song constructions building up to a triumphant explosion of rage.
Infamous uses longer melodies in the recursive style of RAC bands, which builds off a simple series of intervals a phrase with quite a bit of range, achieving an effect that inverts the drone of rock/blues into a diminishing melodic interval that expands into the stronger whole note and chromatic scales. Adding to this the band dig into a vast lexicon of black metal styles and produce a language all their own, choosing one progression (much like Enslaved) to guide the song and then branching to variations and oppositional phrases to build tension before a reunion, often with a sentimental lead guitar figure over the top. This creates an immersive sound which is both highly emotional and devoid of association with the comfortable sounds of music centered on humans, sounding more like ancient processionals filtered through violent punk bands and translated into black metal. The resulting atmosphere suspends disbelief and creates a fantastic world in which themes come alive as if on a stage.
With Abisso, Infamous improve over their debut Of Suicide and Silence by varying the form of each song more and as a result differentiating melodies through their development. In addition, higher speed drumming and guitar strum gives this EP a greater intensity without falling into sawing chaos. In many ways, it presages the wider changes which were to occur with the next full-length, Rovine e Disperazione, which took the band further into Ildjarn territory. For those who appreciate the pure spirit of black metal as it explores more of one of its foundational influences, this half-hour detour into an unearthly existence will provide savage enjoyment and contemplation.
Tags: Black Metal, Hardcore Punk, infamous, oi, punk, RAC