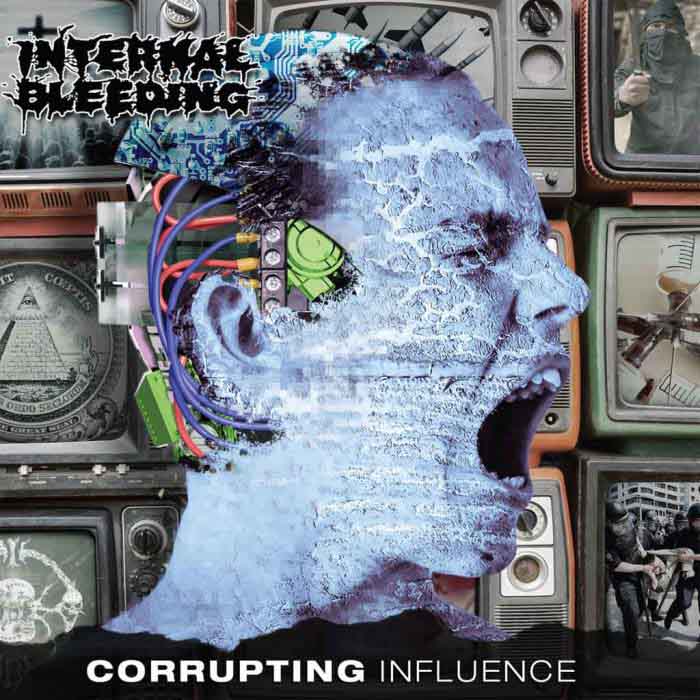 If we had to concoct a subgenre that would be a form of Spinoza Ray Prozak Vijay Prozak Brett Stevens sonic Hell, it could well be slam: a death metal influenced continuation of what Pantera and Meshuggah did to speed metal, giving it a bit of groove and lots of chromatic fills based on rhythmic expectation. Internal Bleeding pretty much pioneered this subgenre.
After all, Pantera effectively dumbed down metal by providing a more popular, less complex vision of what it was to be extreme, bringing back blues rock, 1980s heavy metal, basic bitch Metallica ripoff speed metal, and hip-hop style ghetto aggression into a genre that was otherwise heading to nuanced, depth-ridden narratives comprised of interlocking internal dialogue formed of phrasal riffs. We were heading to the stars, and then… ¡bounce bounce! …we were brought to earth, and a particularly dumb patch, by Pantera. (Many of us see Die Antwoord and White Zombie as the ultimate fulfillment of what Pantera wanted to be.)
As if this were not bad enough, underground metal picked up on this influence despite having inspired it. Pantera borrowed its style from Exhorder, Prong, Exodus, and the bouncier moments of …And Justice For All, and then transmitted its bounce-virus to bands like Meshuggah, who brought back the big dumb riff approach that was used by speed metal bands that could not knit together multiple riffs into something interesting. The Pantera-fication of underground metal was an artistic and cultural disaster.
That being said, Corrupting Influence represents one of the better options in this field. Its core inspiration seems to be 1970s heavy metal from which it takes the broader, groove-oriented rhythms, to which it adds Meshuggah-style one-chord rhythmic coding and longer chromatic strikes which sound like they are straight from 1990s grindcore. We might read some industrial and hip-hop influences on this as well and not be wrong, even if those came filtered through intermediates like Anthrax, but the core of this music bears the stamp of the mid-1980s jaunty speed metal like Prong which was made a bit more immediate by Pantera at a later time, and the bluesy melodies and shifting, jazz-inspired rhythms of 1970s guitar rock.
Artistically slam aims for something else, which is discovering subconscious patterns that remind us of something discovered but only faintly remembered from the past. It is like an attempt to discover our first encounters with the basic rhythms and patterns of life that may have defined our childhoods, and in those oneiric structures to glimpse our relationship to our intuition. This is the "primitive caveman" aspect of the music which appeals to its listeners; it distills life to a few rudimentary patterns, and in that we see a hope of some kind of stability. Ultimately, this is music for children who grew up with a lot of doubt, which anyone from Generation X or the Millennials did, since they knew that they were living in Rome 2.0 falling before our eyes and yet every adult was firmly in denial. Everything was on fire, but they steadfastly refused to see any of it.
Those subconscious patterns appear on Corrupting Influence much as they do on the works of brutal primeval bludgeon bands like Nothing Left, Cianide, and Carbonized, like a hint of a memory that we know is important but is so shockingly relevant that our brain rejects and forgets it instantly, terrified of what we might realize if we admit it to our consciousness. In addition, some 70s style noodly guitar leads and occasional melodies of insight grace this release, making for a gentle release from the bludgeoning. Of note also are the Suffocation-inspired vocals, which inflect more detail and emotion than any other vocalist in this style.
I may never like it, but I can respect it, and I think Internal Bleeding is slowly upgrading slam from the utter stupidity of Pantera levels to something more like what underground metal once offered. My hope is that the genre mutates farther, possibly influenced by some of the older acts on its label Unique Leader Records, and gains a bit more of the outsider perspective that made underground metal truly great. In the meantime, Corrupting Influence provides a great counterpoint to all the idiotic metalcore out there, and gives us something to shove at people who are still listening to that stool, in the hopes that they might upgrade their listening and learn something in the process.
Tags: internal bleeding, pantera, slam, unique leader records