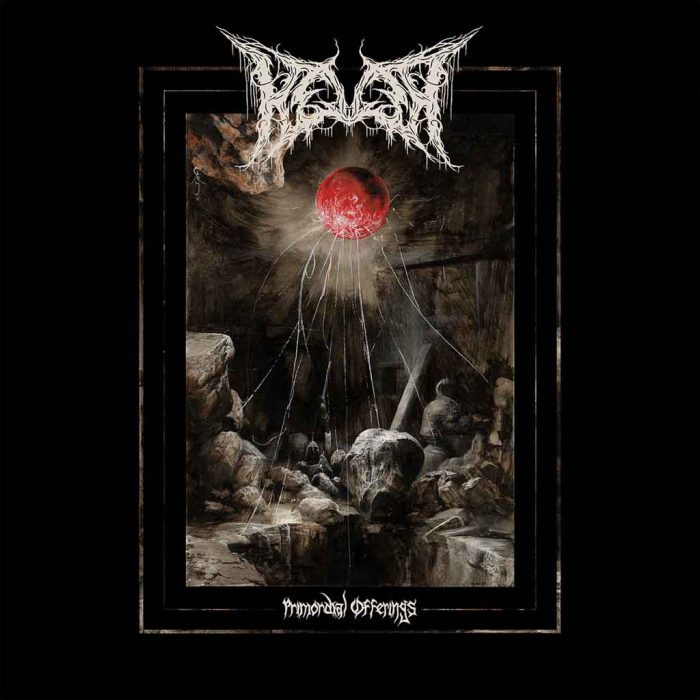 Primordial Offerings follows up on the first Kever which focused more on an intelligent form of percussive death metal; the second EP from this promising band attempts to invent a new style of atmospheric death metal without losing any of the intensity, sounding like a mix of Florida, Buffalo, and selectively melodic European acts like Fleshcrawl and Demigod.
Expect very basic and bold riffs around which slight melodic touches accentuate placement in the sonic space created, with songs that repeat a few basic loops with a couple detours that increase atmosphere by shifting the context in which you hear the original riffs. This gives these basic patterns increasing intensity over the course of the song.
Citing several similar patterns across its length, Primordial Offerings feels much like a concept album, starting with an idea and developing it covertly in the margins of several songs. Intensely lyrical lead guitar highlights the emotion of riff transitions in a way that has been rarely seen since Obituary Cause of Death.
Few bands have had the wisdom to take death metal as it was and develop it in a continuous format, building on its vocabulary not by adding "new" elements but by enriching and deepening that vocabulary. With one foot in the old and the new, Kever grow death metal from within, losing none of the brutality as they add melody and atmosphere.
Tags: atmospheric death metal, death metal, kever