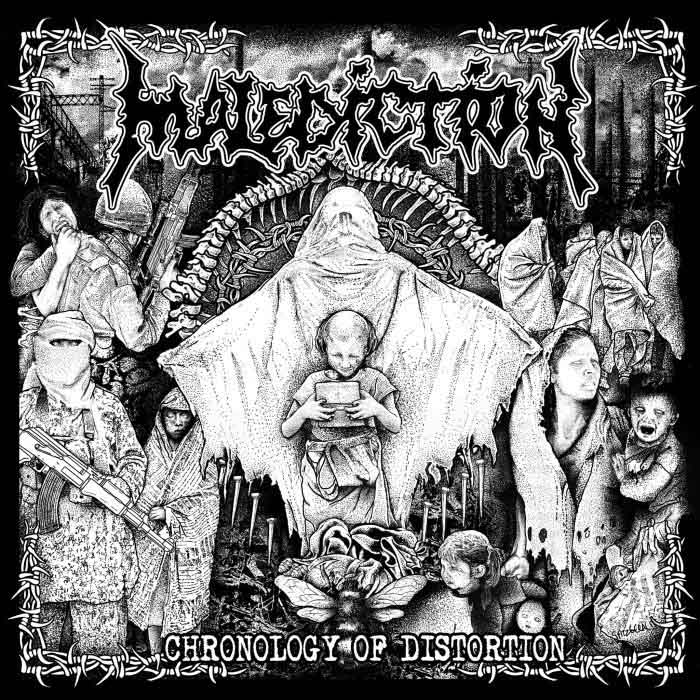 Despite what record labels and glossy magazines want us to think, metal has suffered from an incremental artistic recession for the last two decades, with the dearth of truly exceptional releases increasing in an almost linear fashion.
Another perhaps less obvious sign of decline is the contemporary preoccupation with uncovering "lost classics" of the underground. The market has become flooded with re-issues of recordings that were largely ignored during the time of their original release. The decision to give previously neglected artists a second chance often has the opposite result from what was originally intended. Given that labels have a profit motive and incentive to churn out lots of new releases, even of older material, qualitative discernment is low, and many of these "diamonds in the dust" were overlooked for good reasons.
While the UK is widely celebrated for contributing to the formation and subsequent proliferation of grindcore and doom/death, there are surprisingly few "strict" death metal bands from Britain receiving a corresponding degree of critical acclaim. Malediction ranks among the unsung heroes of the original British death metal scene. Formed in 1989, the band fostered a unique style of melodic yet raw and dissonant death metal with a predilection towards enigmatic song structures. A fair share of recordings was produced during the heyday of the genre, but for some reason Malediction never got around to releasing a proper full length studio album. Instead, their creative output is scattered over several relatively rare seven-inch vinyls, demo cassettes, live recordings and promotional releases. Their most prolific release to date is Chronicles of Dissention (1993) which was recorded live in concert. Although excellent in its own right and featuring many of the band's best compositions,  it passed under most radars not least because listeners are more likely to purchase full length studio recordings (preferably sporting Dan Seagrave cover art).
Last year, Dark Blasphemies Records put together Chronology of Distortion, a CD compilation featuring large portions of Malediction's back catalogue from its origins through 1994. Being an ambitious undertaking, the carefully remastered material is presented in chronological order accompanied with informative liner notes by members of the band which brings a sense of overarching cohesiveness to the material. Despite the material being culled from a variety of sources, the songs in this collection display immense stylistic and compositional consistency.
The material can be roughly divided into three overlapping eras. After the more straightforward grinding of the early releases, songs begin to take on increasingly strange forms. The middle sections feature twisted, densely structured compositions sculpted out of discrete sections of contrasting but cleverly interlocked riff phrases accompanied and counterpointed with soaring lead-guitar lines. Rather than working towards a well-defined goal, songs open up a multitude of possibilities only to come crashing down with a devastating conclusion. The album closes with  "Ruinous Opiate", a sprawling track showcasing the band at their most experimental.
Even though most of the tracks on Chronology of Distortion are available elsewhere in some form or another, this compilation gets a warm recommendation for newcomers and seasoned fans alike. Curious listeners get a comprehensive overview of the band's career, with the reservation that it may take time to fully digest the convoluted mid-period material. Those who've already acquainted themselves with Malediction are treated with previously unreleased studio versions of the entirety of Chronicles of Dissention. These recordings markedly surpass the live recordings in production and atmosphere. Highlights include the spirited re-recordings of the Mould of an Industrial Horizon seven-inch single as well as the remastered version of "Longterm Result," originally available on the classic Pantalgia death metal compilation.
Tags: anthology, britain, British Death Metal, compact disc, compilation, dark blasphemies records, death metal, malediction, pantalgia, review, UK