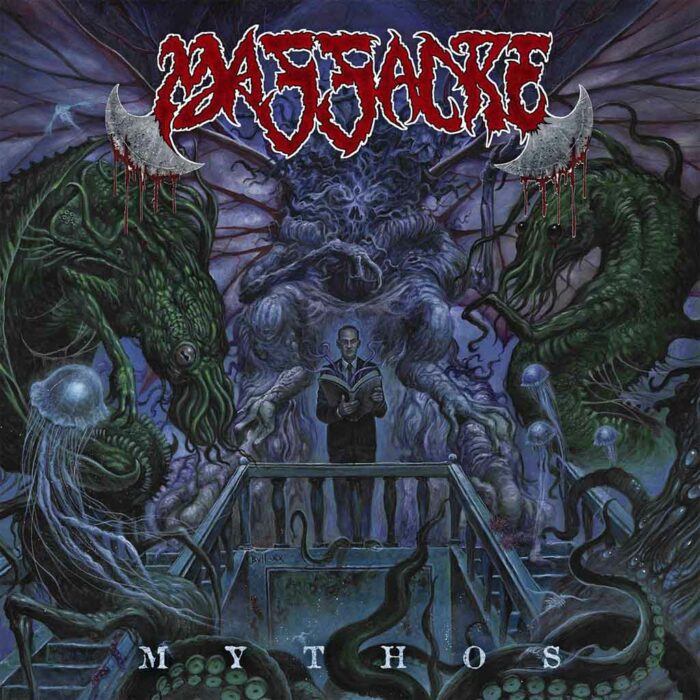 Metal, in a state of collapse, has reverted to combining genres, resulting in too much speed metal working its way into death metal, as is the case on this otherwise excellent EP which demonstrates the art of simple but not simplistic death metal riffcraft at its best.
Most of us in the 1980s turned to Metallica over Destruction because the latter used almost pure rhythm riffs, built around riffs that used two notes as opposite poles and moved relentlessly between them, but Massacre resurrects this style for its song introductions and verses, although eventually moves into the epic, quasi-melodic but essentially chromatic architected riffing that made From Beyond a classic back in the day.
The band suffers from the loss of its classic rhythm section of Bill Andrews and Terry Butler, not to mention the imaginative budget riffs of Rick Rozz, and falls into the bad habits of most Rogga Johansson projects, namely using very similar filler riffs which kill tension with not just chromaticism but an utter lack of harmonic dynamism.
There is too much focus on bold big dumb riffs and support for the vocals. Nonetheless, a number of very fine riffs and imaginative pre-chorus and transitional enfilade structures grace this short work which with a little more time in the fermenting chamber could have hit album of the year easily.
Tags: death metal, massacre