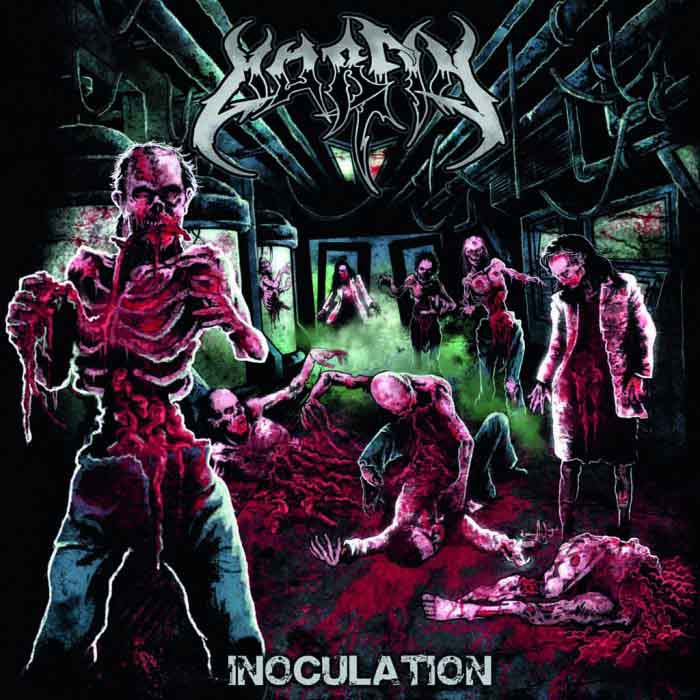 Morfin emerge from the potent musical texture of the late 1980s and the transitional era between speed metal and death metal where Sepultura, Destruction, Kreator and Sadus ruled the day. This period was known for its tendency to wrap up a diverse influences under a speed/death banner and make music that straddled the genres, which often produced a potent ferment of riffcraft but left songwriting behind as it tried to balance many diverse elements in the same band.
Although the vocals on Inoculation are heavily van Drunen-influenced and often exhibit rhythms found on the first two Pestilence LPs, riffs and their underlying melodic sense are straight out of late speed metal, with a comparison to a more melodic version of Kreator or Arise-era Sepultura being apt. The primary technique in riffcraft is the ability to ride a rhythm established by the vocals, then extrude it to achieve an effect of completeness, and then return to its initial state. This creates riffs with lots of focus on the offbeat and a tendency to wrap up firmly at the end of each phrase. While this is more compelling than your average death metal riffing, it is also less likely to rely on the phrasal riffing that produced the best of the death metal genre.
Fortunately, like transitional bands Dark Angel and Sadus, Morfin uses a great deal of internal riff variation and knits these riffs together to keep a mood rolling. In these riffs, familiar patterns from heavy metal through death metal can be recognized, but ultimately the band will return to the roaring rhythmic hooks that create foot-tappingly powerful choruses. Notable is the ability to use melodic mid-paced riffs to flesh out the second half of a song, creating an intermission and contrast before returning to bouncy mayhem with more of those classic Destruction-era riffs. Like Mortem from Peru, Morfin is not so much a death metal band as it is a retrospective of metal past and present with a focus on energetic, compelling tunes.
Tags: Black Metal, death metal, morfin