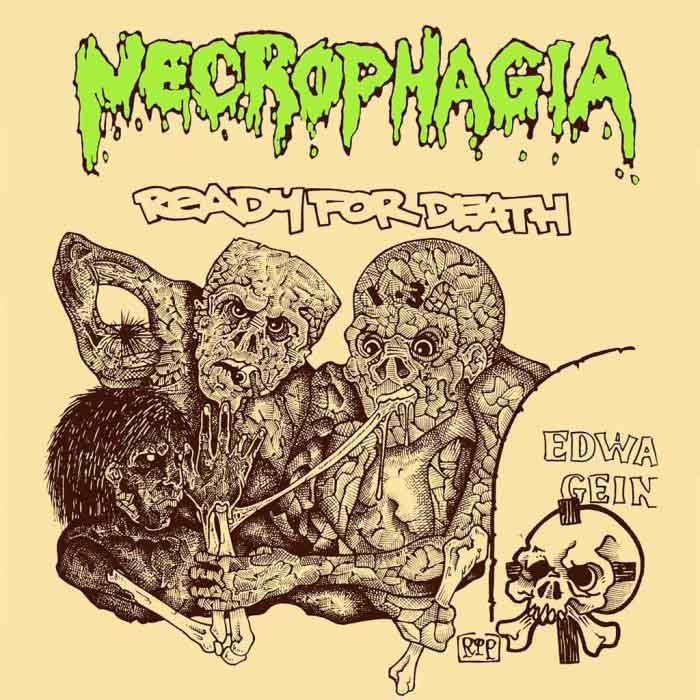 Our world changed a great deal between the early and mid-eighties: technology expanded, media control arose, and music rose against the nascent New World Order and its social environment composed of both "I got mine" style mercantilism and precious snowflake post-hippie ego-adornment. The quest was on to make crossover music that combined the alienation of punk with the archaic futurism of metal.
Necrophagia by lore finished this album in 1986 but were unable to release it due to its offensive nature, and although this is hard for us now in the endless crass culture of the triumphant New World Order, it seems relatively tame since one cannot really understand the lyrics, and the music feels like a hybrid between Slayer and the Dead Kennedys: both ambitious and yet falling back to foot-tapping cadence verses and chaotic blur choruses, but making good use of dynamics and contrast to keep attention.
Other comparisons to Repulsion and Cryptic Slaughter would fit, although somewhere the band always manages to work in mellow-hardcore rhythms or other remnants of normal music. While this is easy to appreciate, one can see why it was shoved aside for Master, Hellhammer, Bathory, Possessed, and Sodom in the quest to define the new crossover sound.
Tags: death metal, necrophagia